Cover date April 2018
Published/on sale Friday 2nd March 2017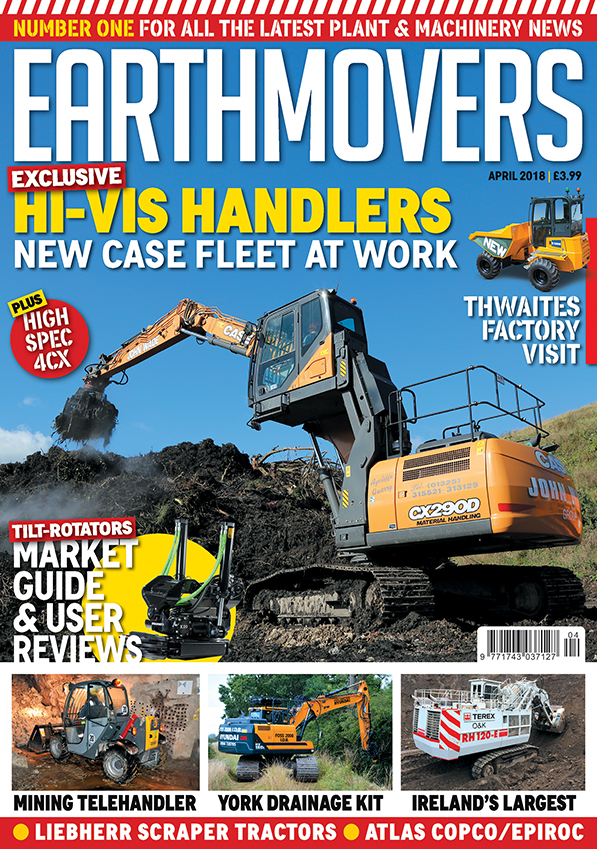 | | |
| --- | --- |
| RECYCLING CASE CX290D MH John Wade Group's fleet of the latest Case CX290D material handlers. | EXTREME MACHINE IRISH RH120 Huge face shovel is proving its worth at Hudson Bros' Blessington Quarry. |
| TECHNOLOGY STEELWRIST The UK's first Steelwrist X Control tilty factory-fitted on a JCB Hydradig. | SITE VISIT HOLMAN MINE The last place you would expect to find a telehandler hard at work. |
| EDITORIAL COMMENT TILT-ROTATORS The Editor's views on the increasing uptake of tilt-rotators in the UK. | MARKET REVIEW TILT-ROTATORS The variety of makes and models of tilt-rotators currently available. |
| FLEET FOCUS GEOFF COOKE E. Midlands plant hire firm's pair of Volvo EC140s with Rototilt tilt-rotators. | MEN & MACHINES WILLIE COYNE The latest 4CX backhoe in the hands of a very experienced operator. |
| SITE VISIT YORK DRAINAGE A pair of new excavators put to work to help to prevent flooding in York. | ATTACHMENTS TILTING COUPLERS A more versatile alternative to the use of traditional tilting buckets. |
| FACTORY VISIT ENGCON Graham Black reports from Engcon's tilt-rotator factory in Sweden. | ATTACHMENTS ATLAS COPCO Construction and mining attachment ranges rebranded to Epiroc. |
| FACTORY VISIT THWAITES Graham Black reports on the operation of this long-established factory. | EURO FOCUS GRAVEL DIGGERS Dutch machinery at work on a river-widening project in Belgium. |
| FLEET FOCUS HILLTOP QUARRIES The latest machine choices of a leading Irish crushing and screening operation. | CLASSIC WORKING SCRAPERS Sometimes the tried-and-tested methods of muck-shifting are the best. |
NEWS: A round-up of the latest news from the earthmoving and associated machinery industry
SUBSCRIBE & SAVE: Take out an annual subscription – don't miss an issue and save up to £7.90 into the bargain!
JOBS & TRAINING: The latest job opportunities around the industry together with selected training courses.
NEXT MONTH: Here's a taster of just some of the exciting features planned for the next issue.
PLANTMOBILIA CAT DOZERS Previews of four new or updated Caterpillar dozer models due for release in the second half of 2018.
PICTURE POST: Got any interesting or unusual pictures of earthmoving men or machinery? WIN £20 for our 'Pic of the Month'.