Cover date February 2018
Published/on sale Friday 5th January 2017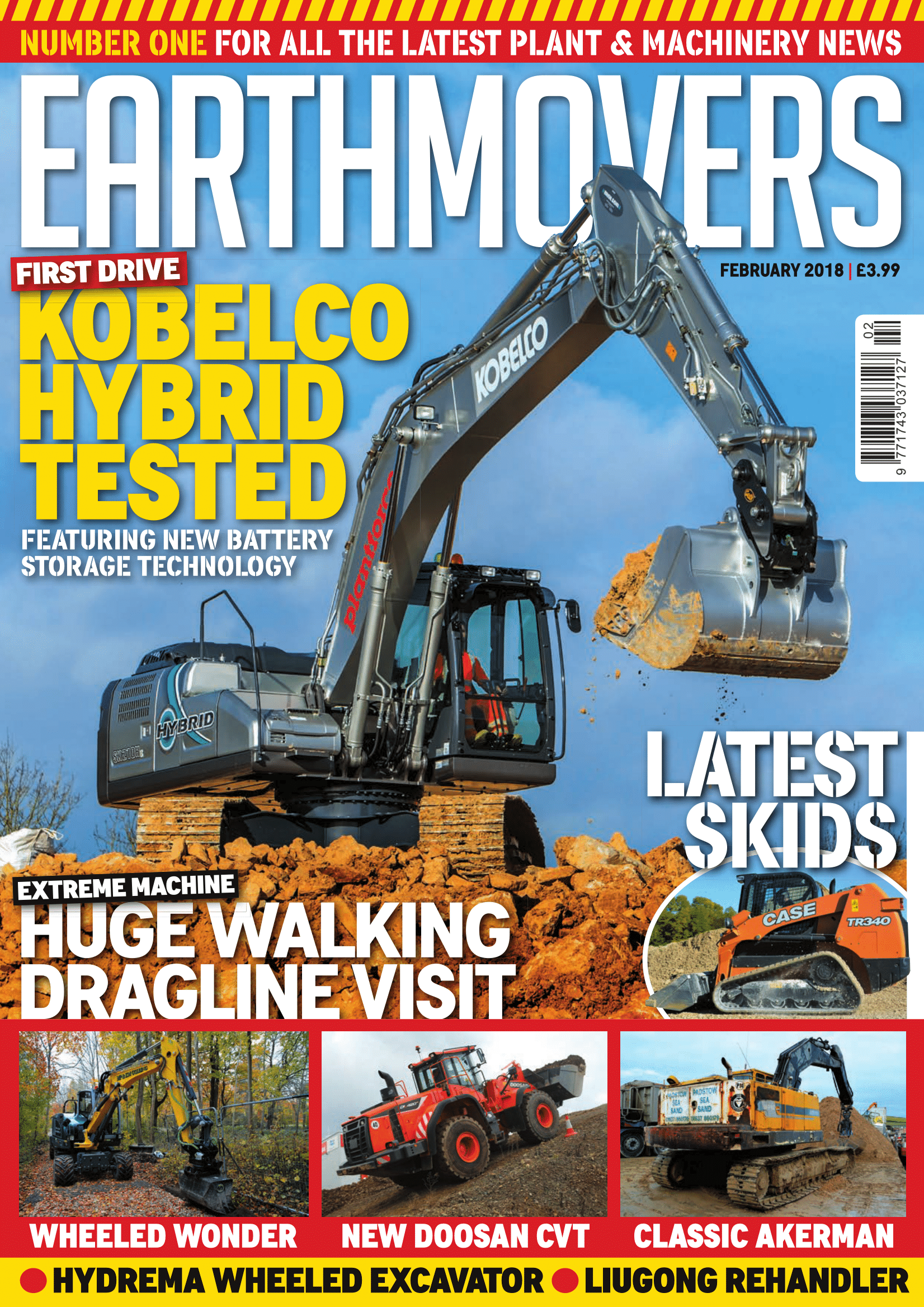 | | |
| --- | --- |
| FIRST DRIVE KOBELCO SK210H-10: In the cab of the world's first hybrid featuring a lithium-ion battery. | PRODUCT LAUNCH DOOSAN DL420-5: The latest manufacturer to offer a wheel loader with a CVT transmission. |
| PLANT THEFT FRAUD WARNING: Thieves are getting smarter. Police issue a warning to the plant industry. | TECHNOLOGY REMOTE CONTROL: Bobcat's plug-and-play remote-control package for skid-steer loaders. |
| SITE VISIT WACKER NEUSON EW65: The first Wacker Neuson EW65 wheeled excavator to be sold in the UK. | RUNNING REPORT LIEBHERR: L586 X-Power versions of this loader feature a continuously variable transmission. |
| SITE REPORT CLIFFE HILL QUARRY: The next generation of thinking when managing machines, people and sites. | PRODUCT LAUNCH CASE SKID-STEERS: We report on the latest generation of American-built skid-steer loaders. |
| FIRST IMPRESSIONS KOMATSU D475A-5: Fife Silica Sands' new 115-tonne Komatsu D475A-5 dozer in action. | SPECIAL ADAPTATIONS STC HD140: Dutch demolition firm Vlasman's extreme version of Hitachi's ZX890. |
| TRANSPORT RAIL HUB: An old-fashioned alternative to the transportation of bulk aggregate. | FIRST IMPRESSION HYDREMA MX14: We report on the latest purchase of a Hydrema wheeled excavator. |
| RUNNING REPORT JCB JS220 PLUS: The latest addition to the fleet of a family-run Irish plant business. | FACTORY VISIT ARROWHEAD: We report on an innovative British manufacturer of hydraulic breakers. |
| EURO FOCUS TOWED SCRAPERS: An unusual towed scraper at work, the Bos-made ejector-bodied Giga. | ATTACHMENT XCENTRIC RIPPER: An alternative to a heavy-duty hydraulic hammer in a quarry application. |
| EXTREME MACHINE BUCYRUS 8750B: Canada's largest coal mine is home to the heaviest dragline in the world. | SITE VISIT PADSTOW SANDS: The fleet of classic and modern machinery tasked with sand removal. |
NEWS: A round-up of the latest news from the earthmoving and associated machinery industry
SUBSCRIBE & SAVE: Take out an annual subscription – don't miss an issue and save up to £7.90 into the bargain!
JOBS & TRAINING: The latest job opportunities around the industry together with selected training courses.
NEXT MONTH: Here's a taster of just some of the exciting features planned for the next issue.
PICTURE POST: Got any interesting or unusual pictures of earthmoving men or machinery? WIN £20 for our 'Pic of the Month'.