Leading UK site dumper manufacturer Thwaites have been in touch with the Digger Man Blog about a recent sale by their distributor Lister Wilder, of a 4.5-tonne Hydrostatic Power Swivel Dumper to the Ovenden Group. One of the first to be sold in the UK.
Thwaites distributor manager (south) Paul Rodwell commented. "The 4.5 tonner has long been a very popular machine overseas, it's easy to operate, efficient and incredibly effective on site. Here in the UK, the standard range 'norm' is to move from a 3-tonne Dumper straight to a 6-tonne machine".
Commenting, MD Tristan Ovenden said, "We have purchased this 4.5 tonne Hydrostatic Power Swivel Dumper to complement our growing fleet of some 30 Dumpers. The machine will be hired out to contractors across the South East, down to the Kent coast by our compact Plant Hire division Boss Plant Hire".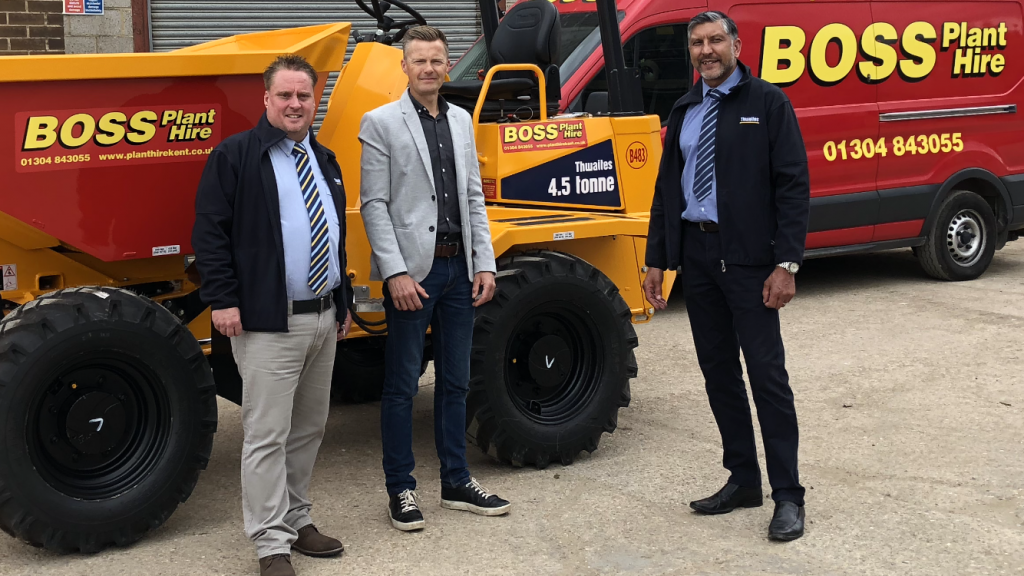 Continuing Mr Ovenden said, "We saw a real opportunity to provide a machine for hire that could give more power and performance than a typical 3-tonne machine, yet not be the physical size of a 6-tonne machine. We also believe the hydrostatic machine gives significant safety and maintenance advantages, meaning we can better optimise utilisation, offering a great Thwaites Dumper at a competitive hire rate to our customers".
Concluding Paul Rodwell said, I was delighted to work with Lister Wilder's sales manager Paul Mahoney and Tristan from Ovenden, we trust further plant hire and contracting business will discover how the 4.5-tonne Hydrostatic Power Swivel from Thwaites can add real value to their dumper fleet.