Re-visiting one of my articles from last year that first appeared in Earthmovers Magazine and bringing it to life on the internet unedited and with alternative photos.
It's probably fair to say that Will J Walmsley is a bit of an entrepreneurial type of guy, not content with setting up his own Gloucester based engineering and fabrication business WJM Engineering Ltd a few years ago, he also runs another sister company alongside the engineering one and more recently has also moved into owning and operating his own excavator and as I discovered it's not just any old run of the mill excavator either.
Will's sister company is called Renutrack and is run by one of his mates, George Forbes. The business is primarily engaged in the construction and maintenance of farm roads, forestry tracks and agricultural contracting. After hiring in excavators as and when needed for some considerable time Will started to look at his options for ploughing further investment into the business and making it more self-sufficient. A twenty-tonne class excavator of their own was high on Will's list of priorities and as such the search for a suitable machine started in earnest.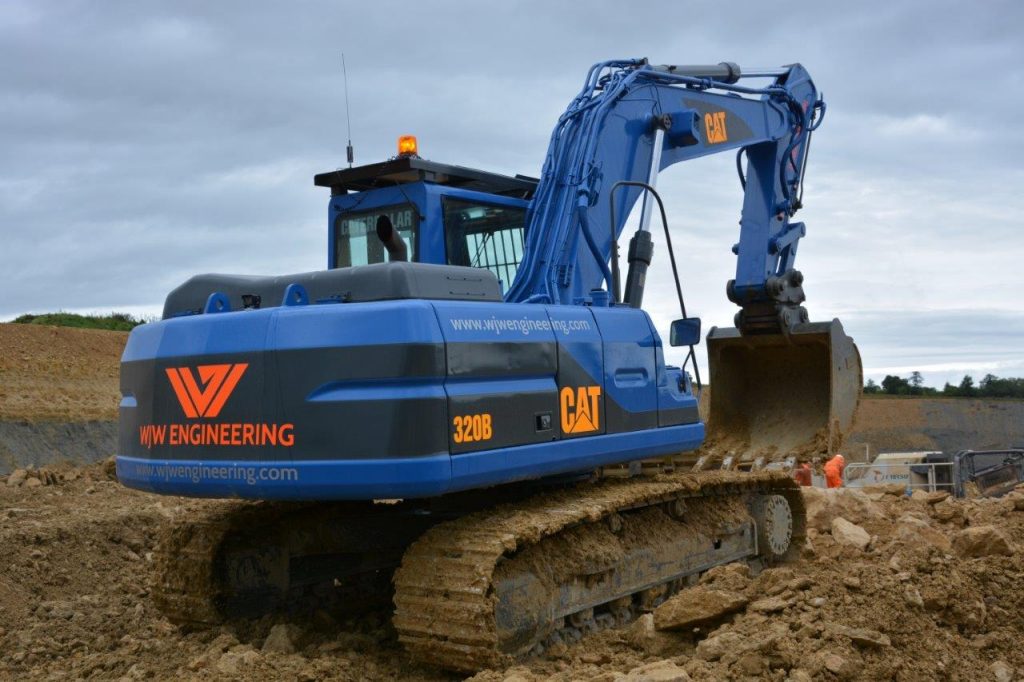 Another mate of Will's sent him an email featuring an advert for one of two Ex MOD Caterpillar 320B hydraulic excavators which also featured a remote-control system and despite being 2001 model machines, had hardly ever been broken in, having just amassed 500 and 600 hours on the meter respectively. Thinking outside the box Will was keen to take a look at these unique machines for himself and travelled up to see them at the premises of Agri Plant Specialist Vehicles (APSV) in North Yorkshire, who specialise in ex MOD, NATO and PLC trucks, machinery and equipment.
On the day of Will's visit both machines were still sporting the familiar army olive green paintwork and were surrounded by boxes of equipment that was required to operate the machines remotely, however Will decided such equipment would not really be needed for his work, so that aspect was ruled out straightaway. These machines were initially specified and kitted out to work on the bomb disposal units in the Army, spec that included the ME (Mass Excavation) style short dipper, Prolec weight and height warning systems, demolition style cab guarding on the front and roof of the cab, and auxiliary hydraulics for running breakers, pumps and other hydraulically powered attachments.  On closer inspection it was clear to see they had done very little work, in fact these machines which are now some 16 years old are actually in as good a condition as the day they came out of the factory.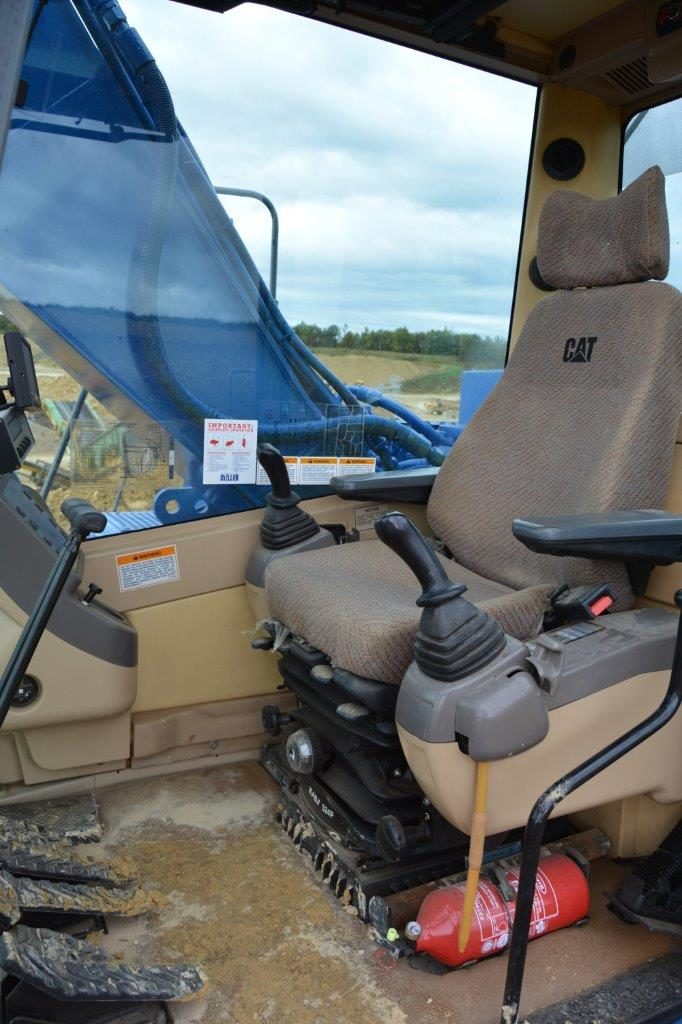 The interior of the cab was totally immaculate and factory fresh even after all these years, featuring air conditioning and all the other creature comforts that you could possibly need in a modern-day excavator, there was even a gun holder mounted inside the cab for storing your rifle while operating, you know, as you do!
Will cast his expert engineering eye all over the machine and it quickly became apparent this would be a no brainer in so many ways, talking about his purchase Will said, "I basically looked at it and thought I am getting a virtually brand new 20 tonne machine for half the price of a modern day version and I couldn't see how I could go wrong really, I was offered the choice of either machines so I decided to opt for the lower 500 hour one, which they then offered to spray to revert it back to original Caterpillar colouring, however I had something else in mind, as we run a New Holland tractor and our vans are painted in New Holland blue, it's kind of become our corporate colour, so I asked if we could have the Cat painted in that shade too, they were initially a bit taken aback and thought I was joking, but eventually realised I was serious and agreed to do it, it cost me an extra £2k, but I feel it's been money well spent considering the saving we made on the base machine, some people have said about losing some resale value as its not original paintwork, but my plan is to keep the machine forever so I'm not really worried about that".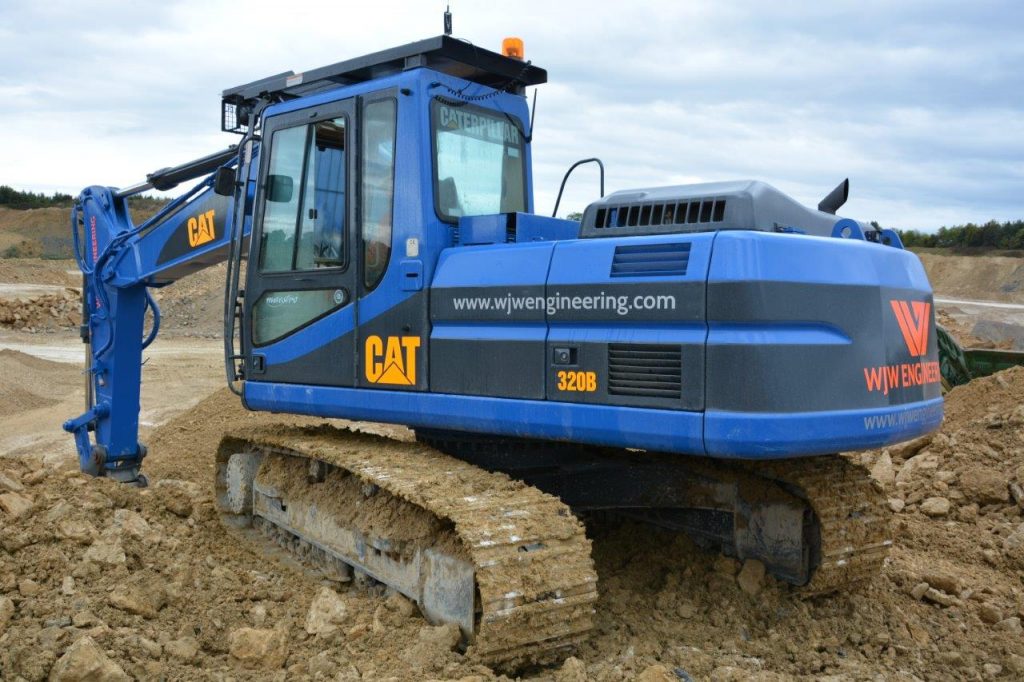 The deal was done and following the paintwork being completed the machine was delivered to site in Gloucester on one of Renutrack's jobs. When the machine is not working on one of their own projects it can generally be found in Naunton Quarry, which is situated in the Cotswolds and is operated by the Breedon Group. This area is well known for its distinctive yellow limestone which adorns many properties across a wide swath of the county and beyond. Initially Will was approached to go and work in the quarry to perform engineering work, repairs and fabrication but as time has passed by he has found himself taking on other aspects of work within the quarry which produces around 500,000 tonnes of stone per annum in addition to production of concrete blocks, floor beams, walling stone and concrete.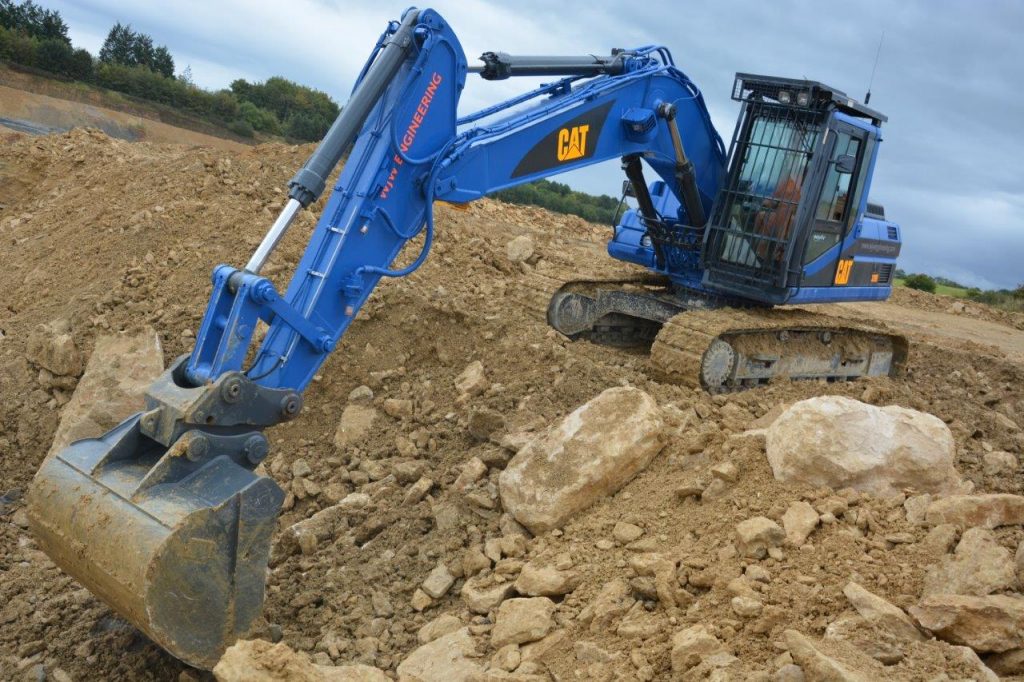 Will has built up a good working relationship with the team in this quarry and the Cat 320B has become a welcome addition to the plant fleet at work there. Its work variety ranges from muck shifting, to grading haul roads, feeding crushers and screens and various lifting duties and has defined itself as a bit of an all-rounder in the pit, it was in this working environment that we caught up with man and machine.
On the day of Earthmovers visit the "Blue Cat" was busy digging out rock at the quarry face and I must say the well proven Cat engine sounded awesome as ever, it was certainly music to my ears, what with the current trend for engines that are so quiet you can hardly tell they are working!
Talking about the machines performance Will said, "It has taken a little bit of getting used to, mainly due to the fact that I'm not used to a mass excavation spec machine with a short dipper, so grading is slow although with the various different settings you can just about get it up to speed. It just seems that you are always chasing the dipper down during the final stroke when grading, which can make things a bit awkward, but like everything else, you do get used to it and adjust your style accordingly. The slew power is absolutely flawless and the machines outright power to dig and lift is incredible and in the quarry environment digging out the rock, that's a real bonus. She is smooth as silk in operation, the cab is extremely comfortable and the engine just purrs away all day".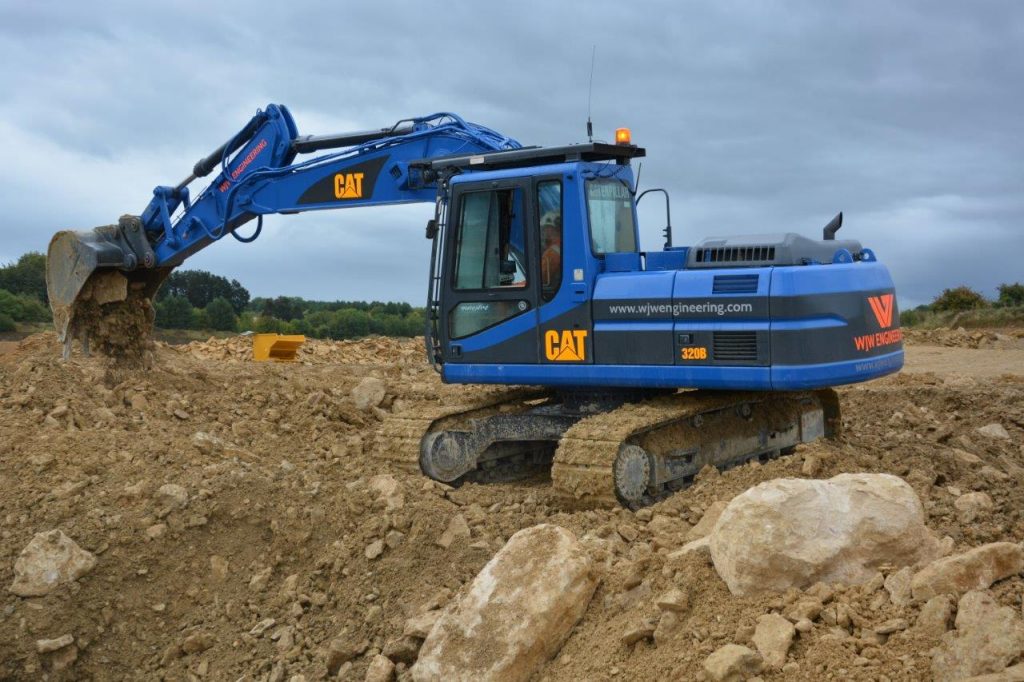 These Caterpillar 320B's which tip the scales at 19400kgs and are powered by a six cylinder Cat 3066T diesel engine with a power output of 128hp (95.4kw) were initially purchased as a batch of 36 machines by the MOD in 2001 and were supplied by UK dealer Finning between March – September that year. The machines had their own unique serial number of BNP00… which was based on the 7JR00… commercial serial range but had a lot more options than standard such as all the hydraulic functions for hammer and grab/grapple attachments, Miller quick coupler, rifle brackets, basic black out system and there was also an option for an armoured cab.
The units were then modified by specialist defence technology company QinetiQ to enable them to be operated remotely via a radio link and a specially manufactured laptop computer. Also fitted to the machines were tilt and pan forward and rear facing cameras to give the remote operator the same view as if he was sitting in the cab.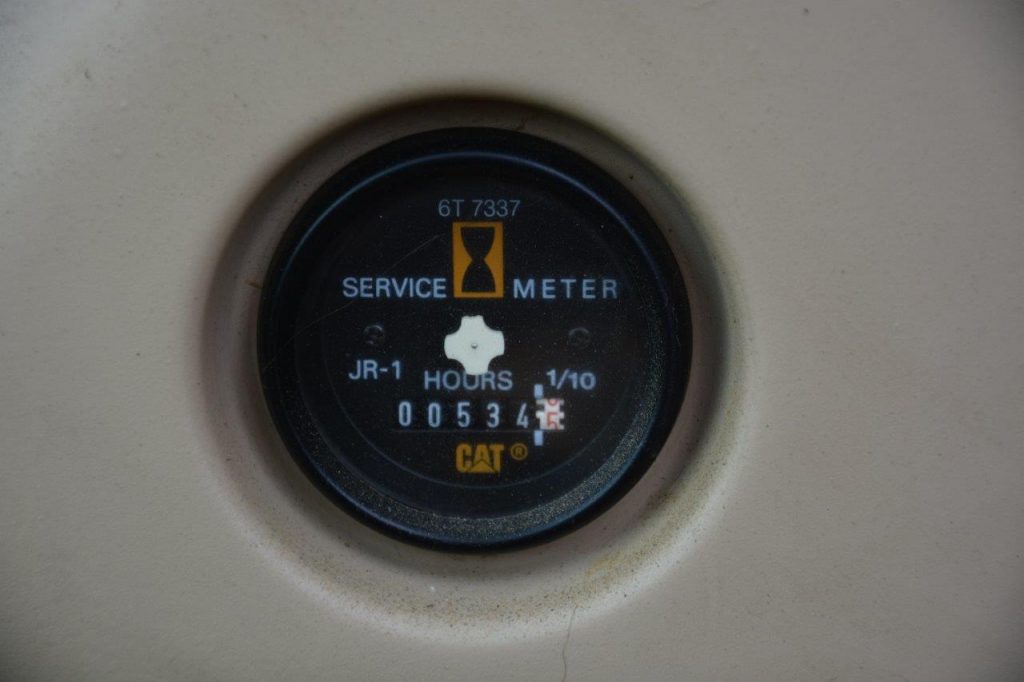 These machines were able to complete ordinary excavation duties with an operator or via remote control for the removal of spoil around old explosive ordinance that may have fallen during WW2.
The operating unit using this particular equipment were 33 Engineer Regiment based at Wimbish but their role took them all over the UK when required. As a part of their normal equipment holding at the time they had 2 x Cat 320 RC Excavators, 2 x JCB 4CX RC Excavators and a tracked drilling unit.
It is understood that following field trials in late 2009/2010 the Caterpillar machines were replaced across the various military units for Volvo EC210C tracked excavator models of which 23 were delivered, in addition to 28 EW180C wheeled excavators which replaced outgoing Caterpillar models.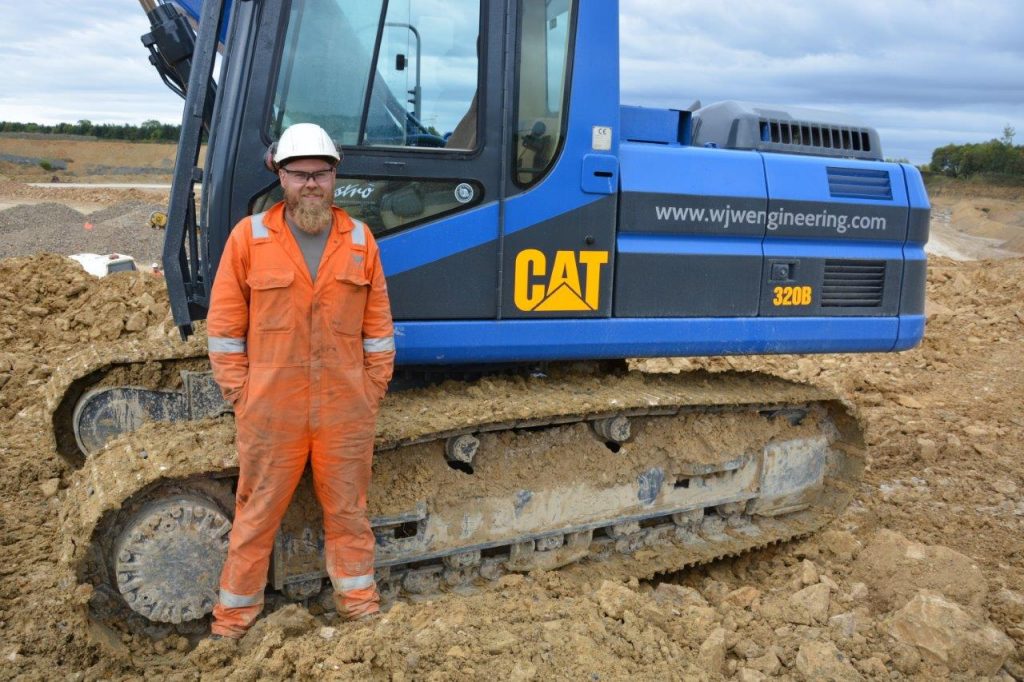 Summarising about his new addition Will commented, "This machine has proven to be a great investment for us so far, the short dipper gives the machine some amazing breakout force for our work in the quarry, but in addition to that when working on our track building side this configuration has proven to be invaluable too as we are often having to work under trees and other overhead obstructions, but with the ME dipper it keeps the profile of the machine lower which is another plus point, it's certainly an interesting machine in many ways and I find it amazing to know that it was working on a bomb disposal job in London on the cross rail job in the months before I bought it".