As featured in the last edition of Earthmovers Magazine, but in its full un-edited format with alternative photos, my article on Champion Groundworks.
Like many others in this industry, Fred Champion first started out in business in a small way when in 1983 he purchased his very first digger and formed Fred Champion Groundworks, based in Liskeard in Cornwall, which has long been known as something of a hotbed for groundwork and civil engineering contractors locally.
That one man, one machine combination, was the catalyst for the company which steadily grew and grew to become one of the largest and most respected groundworks contractors in the South West, working for a large number of national blue-chip housing developers and today employs in excess of 300 employees, working across 40 live sites in Cornwall and Devon, which along with its plant hire and scaffolding divisions generates an annual turnover of £60 million.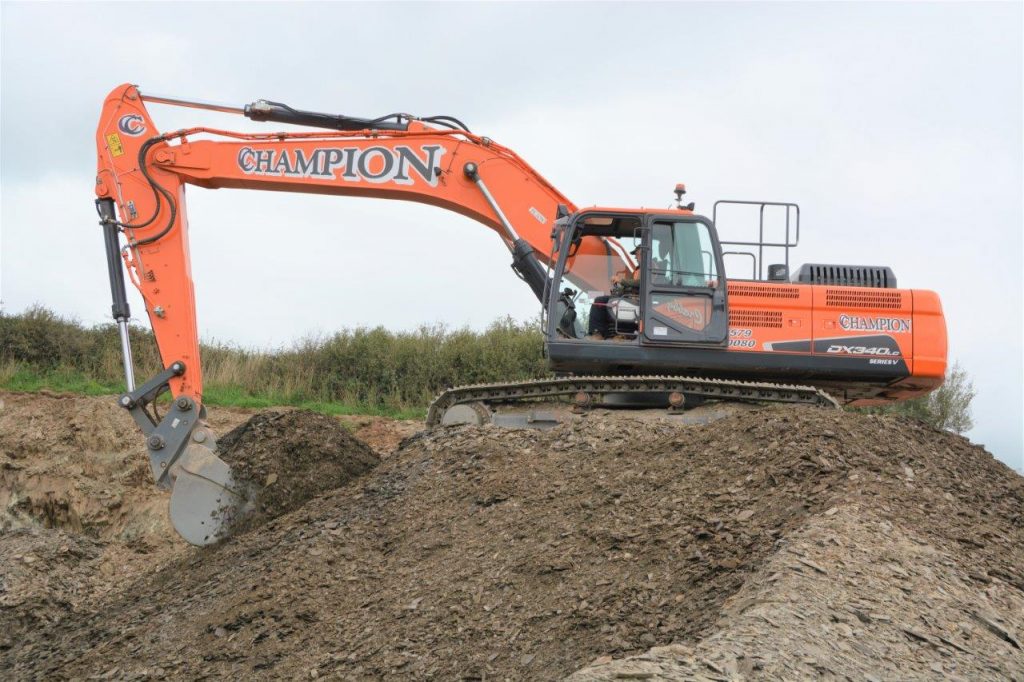 Earlier this year at the annual Royal Cornwall Show the company had its 100th fleet excavator, a Case CX250D, on display on the local Case dealership M&M Plant Sales stand, marking a significant milestone for the long-established business.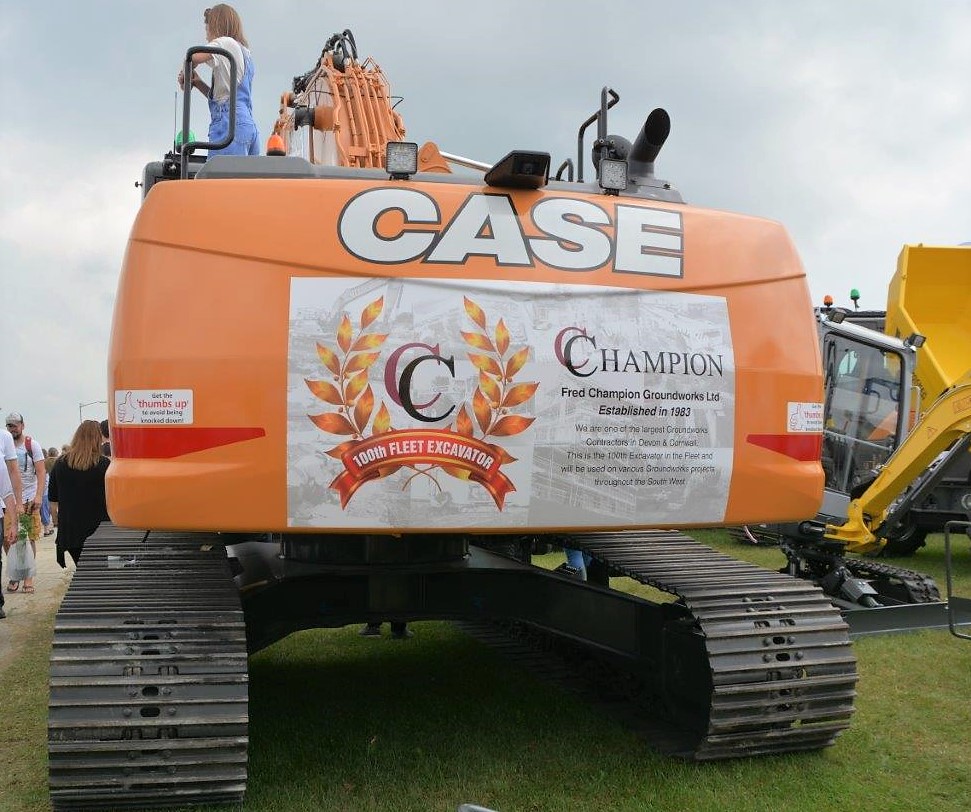 These days the company's excavator fleet is dominated by the Japanese Sumitomo based Case brand thanks in part to their outstanding reliability and being extremely operator friendly, but also due to a great working relationship with the dealer. The other dominant brand on the excavator fleet is Volvo. The Swedish designed excavators built in Korea and Germany have also proven to be good reliable machines and the levels of comfort in the cab are proving to be a real hit with the operators.
The company still run a number of Doosan's, especially for some of the operators who like to operate them, the latest being a DX340LC-5, which also made its debut at the Royal Cornwall Show on the Kellands Plant Sales stand and is operated by long term employee Andrew Crabb. Earthmovers caught up with this machine and others from the extensive Champion fleet at a couple of locations, firstly in Sherford on the outskirts of Plymouth, where it was excavating and loading good shillet material onto the company's Volvo A30G dumptrucks and some days later on a new "greenfield" site on the outskirts of Liskeard, where it was engaged in the initial top soil strip.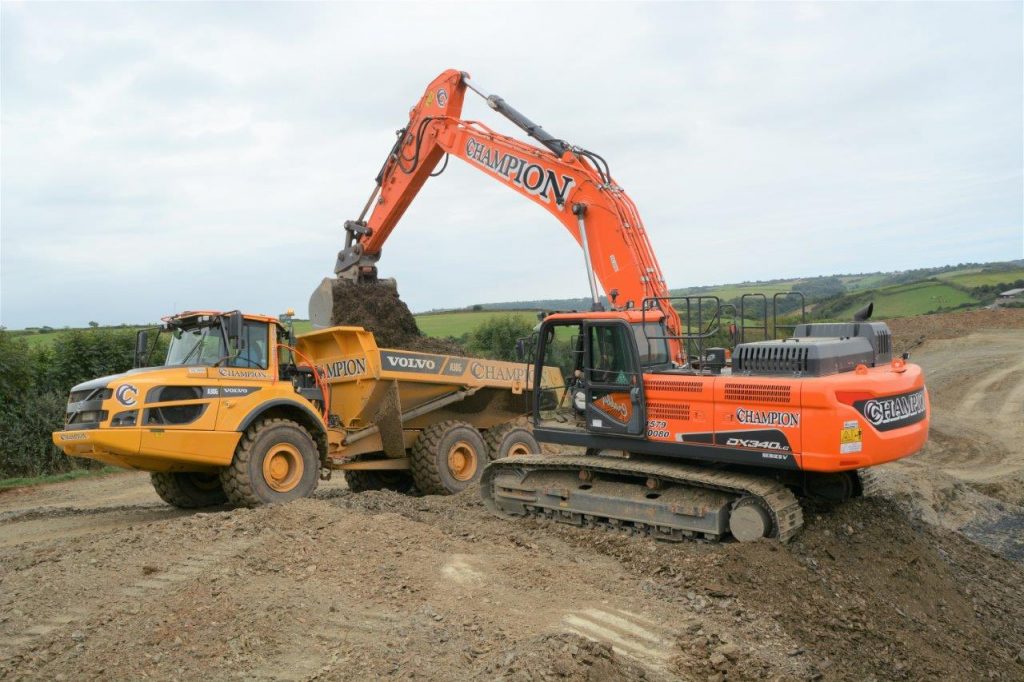 Interestingly on the Liskeard job site the machines were working to the glorious backdrop setting of local landmark Caradon Hill on Bodmin Moor. The hill is most well-known for its 237.7 metre (780ft) television transmitter Caradon Mast, which was erected in 1961 and provides terrestrial TV coverage to the region.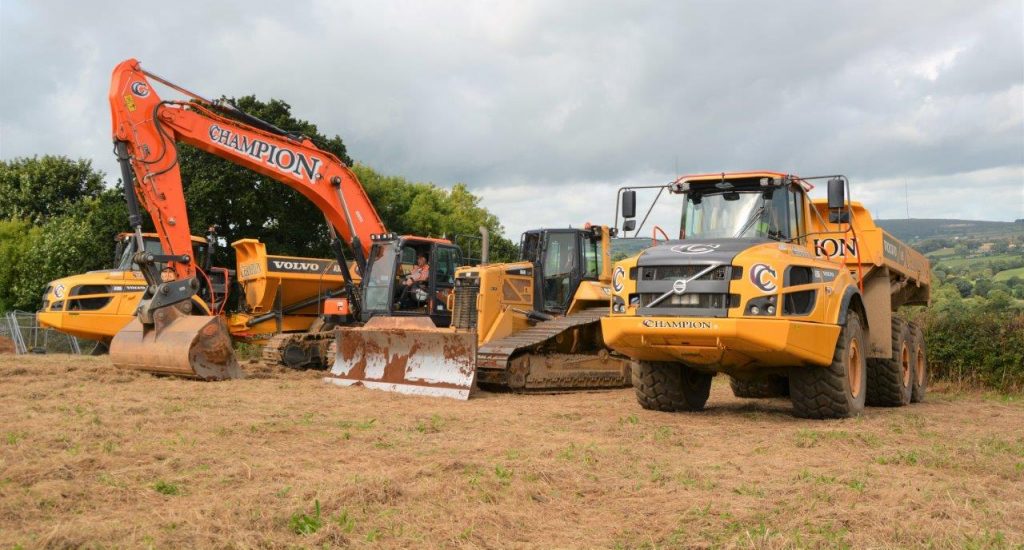 Some Kobelco 8 tonne class midi excavators have recently joined the fleet, talking about these Champion Groundworks Procurement Manager Will Evans said, "We have been very impressed with the Kobelco's so far and the operators really rate them, it would be good if they made a conventional tail swing 14 tonner as I think we would be keen to purchase them, but at the moment they only seem to be offering the zero tail swing offering in that weight class".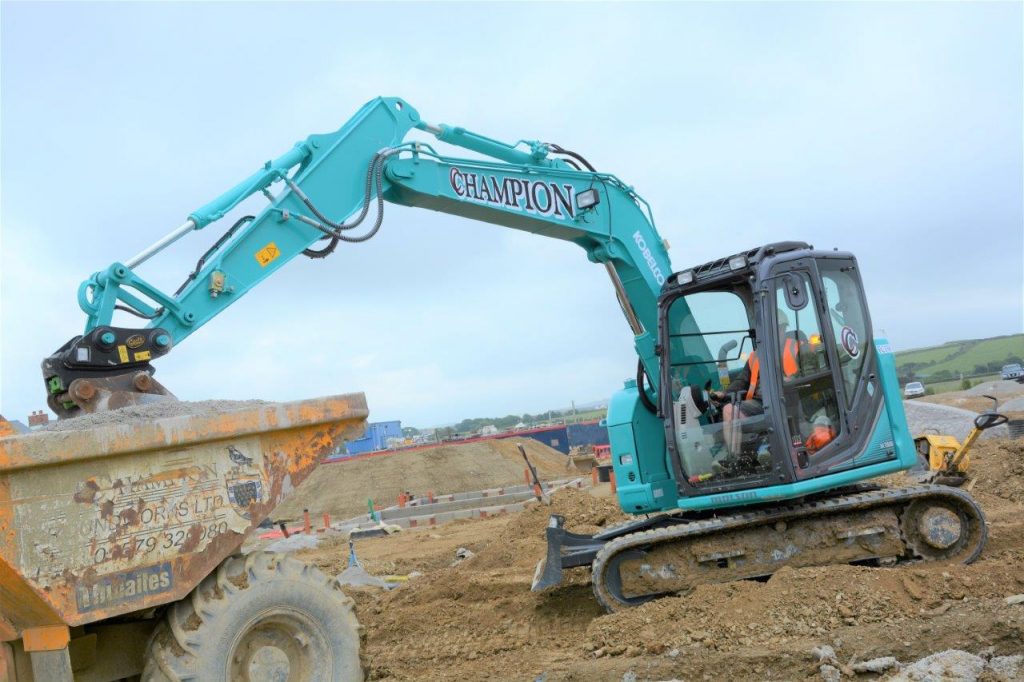 Takeuchi mini excavators have long been a favourite with Champion Groundworks and there are significant numbers of them on the fleet, along with Thwaites site dumpers and Bomag compaction equipment, all of which are supplied by CBL Plant Sales out of their Saltash depot.
The company are also running a couple of dozers, which perhaps unsurprisingly come from the Caterpillar stable, a D6T LGP with straight blade, which is operated by well-known local plant operator Fred Laity and a D6N LGP with a PAT (Power Angle Tilt) blade operated by one of Fred's son's Aaron Champion. Having their own dozers and ADT's in the plant arsenal makes things a lot easier, offering the company improved flexibility and profitability in the long term.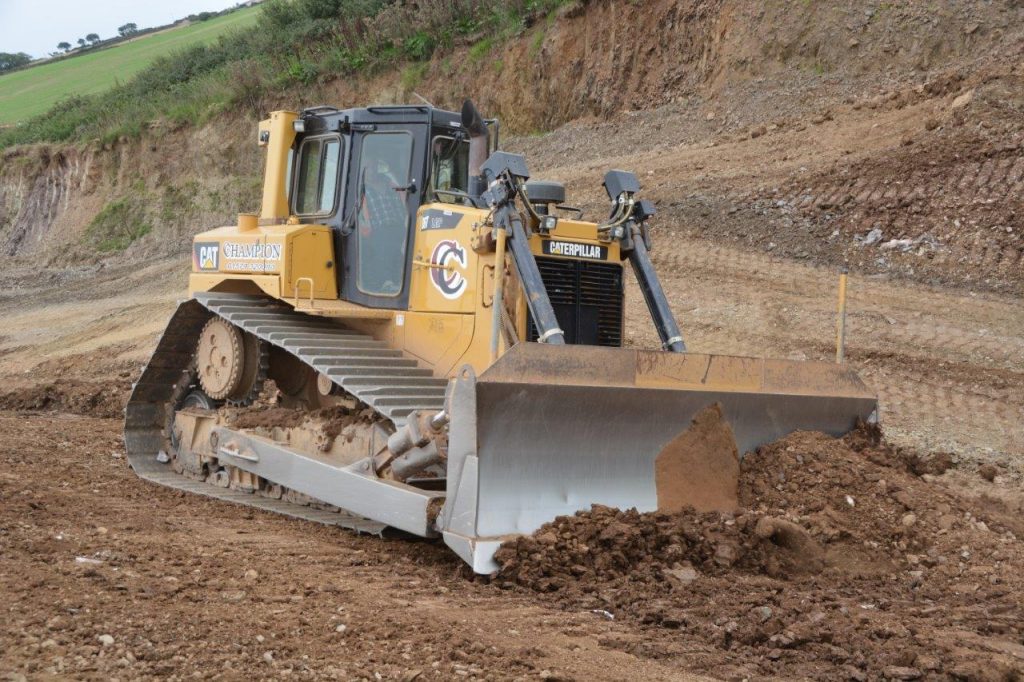 Having dabbled with excavator mounted crusher bucket attachments in the past, the company have moved away from that solution and invested in a dedicated high capacity crusher from Keestrack and a screener system both of which were supplied by the Molson Group, talking about this Will Evans said, "We were running a crusher bucket in the past but with the massive Sherford project we needed kit that was able to work a lot more efficiently and to cope with much larger volumes of materials we needed to process, we now have a perfect solution for all our crushing and screening requirements".
In terms of other excavator mounted attachments the company currently only uses fork carriages and as yet has not considered things like tiltrotators, although some of the owner operators on hire have adopted the concept, it is not currently considered an essential piece of kit in the housing groundworks industry.
Talking about the challenges of dealing with modern engine technology today Will said, "To be honest we have not faced too many issues and we are generally finding that if we have any problems it is within the first 500 hours of a machines service, but on the whole, it's been ok".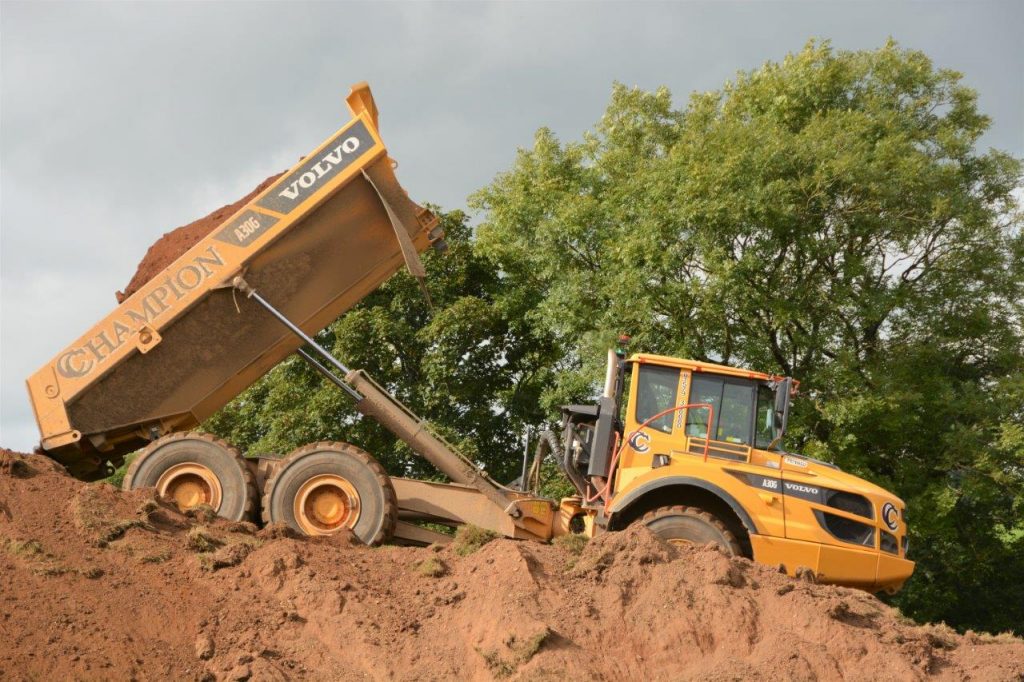 Will continued, "We have found the Case CX130's to be virtually bomb proof presenting us with very few problems during the 3-year period we generally keep our machines. Our Volvo 140's have generally been good machines with no real issues except for some AdBlue complications".
Keeping a well-maintained fleet is a top priority for Champions and machines are all serviced at 500-1000-hour periods, or as per the manufacturer's specifications. The company have 3 service vans on the road and a first-class workshop facility in Liskeard which keeps it all "in-house".
Like most companies these days finding good quality, highly skilled operators seem to be a constant challenge, as the existing workforce ages and reaches retirement age. Fortunately, Champion's have a lot of vastly experienced loyal employee's, many of whom have been with the firm all their working lives and who are now actively engaged in passing on their skills to the next generation of groundworkers and machine operators.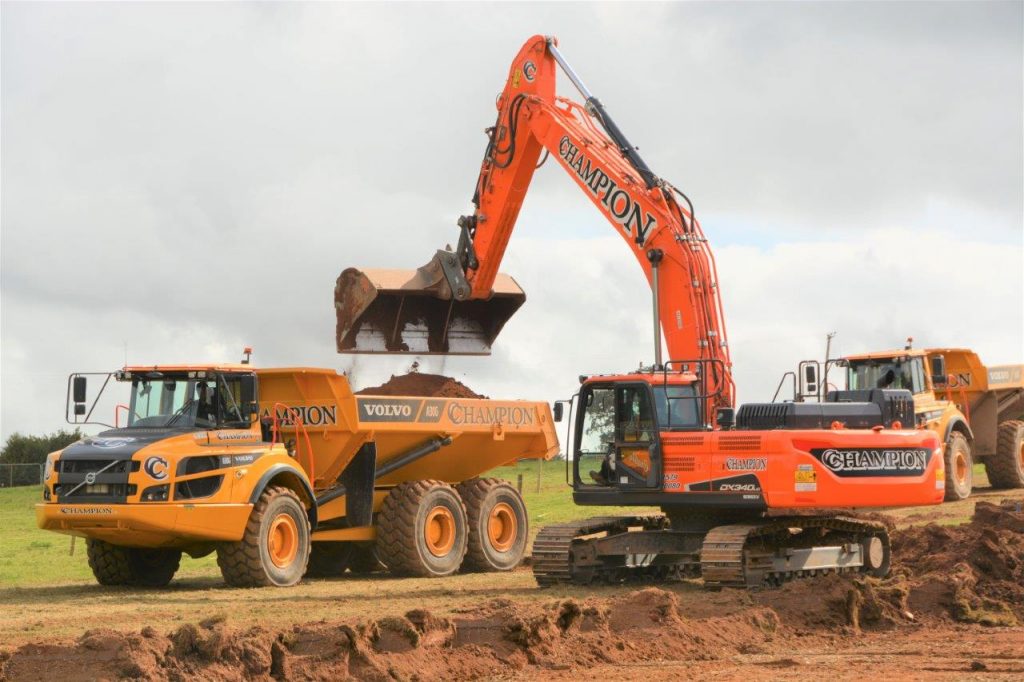 However, not being a company to rest on its laurels, to address any potential skills shortage the firm is running an apprenticeship scheme for groundworks operatives and machine operators at its own in-house facility in Liskeard. In addition to this, once a year the company run a two-day seminar for all its employees to attend as a refresher course on a wide variety of groundworks and machinery related topics, focusing on the latest techniques and technology but with a strong and important emphasis on health and safety.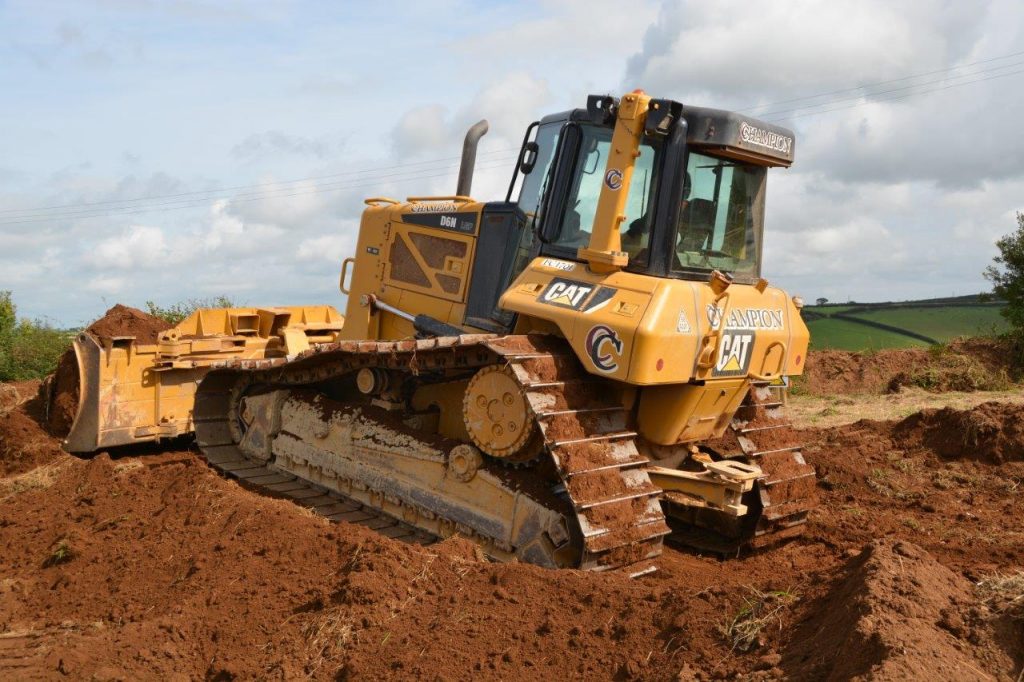 Perhaps reflecting on how he got started in business himself Fred Champion has always been a keen supporter of owner/operators and there are a number of these on hire to the company to this day including well-known names like Tim Olver, Courtney King, Olly Swiggs and Kyle Gallacher to name a few.
One of the company's biggest projects in recent years is the aforementioned Sherford development. Started in 2015 with planning spanning over the next 20 years the project is seeing the formation of a brand-new town on over 1,200 acres of farmland on the eastern outskirts of Plymouth. Around 5,500 new homes will be built along with 3 primary schools and a secondary school and associated infrastructure needed for an estimated 12,000 residents to live and work from.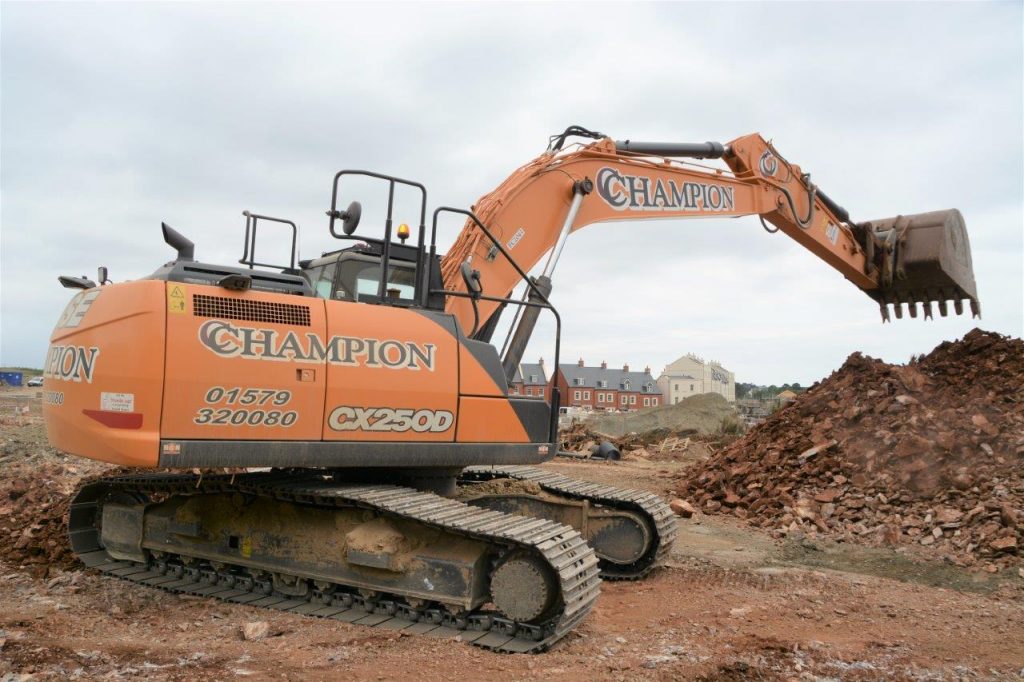 During the early stages of this project Champion Groundworks formed a joint venture called Groundfix with another well-known Liskeard based contractor Steve Hoskin Construction (SHC) to deliver all the earthworks and infrastructure, most of which are now completed and going forward sees the two parties working on the various housing developments individually. It's a massive site and there is plenty of work to be done there for the foreseeable future.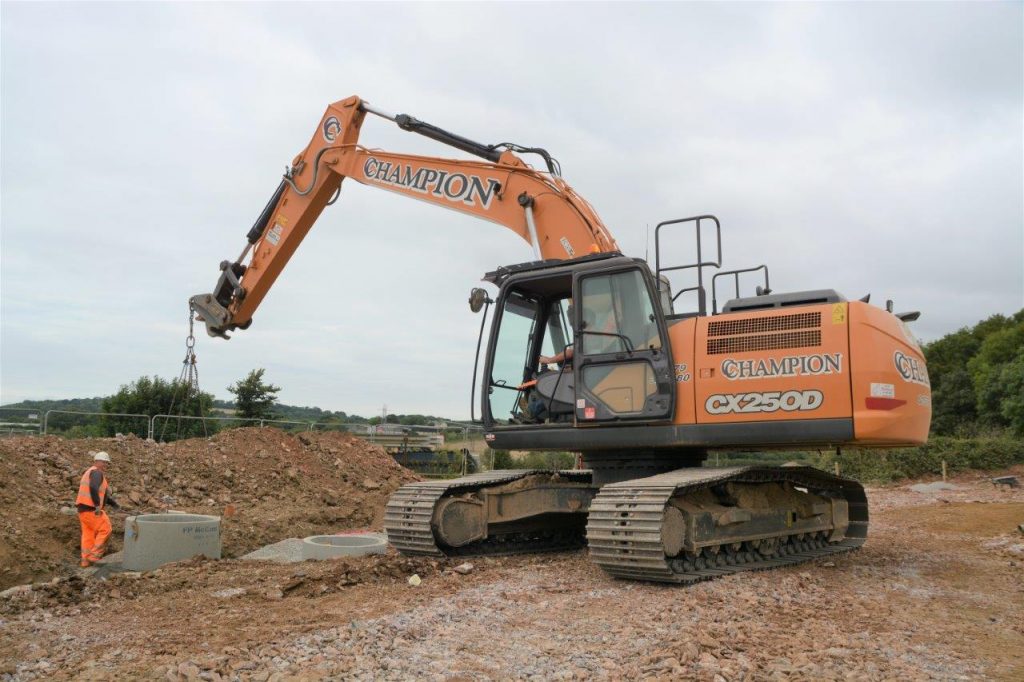 Other notable ongoing projects include 300 homes in Truro for Persimmon Homes and the Newquay Growth Area project, which sees the company working directly for the Duchy of Cornwall in terms of infrastructure, main drainage and roads and delivering the groundworks package for 3,000 new homes for various developers including Wainhomes, and C.J Fry.
Looking to the future the company has some of the best local people in the industry on board and continued expansion is expected with another satellite office in Exeter opened recently, the future looks bright for this Champion of Cornish groundwork.