Duck Girl aka Aimee Pooley has been spending a bit of time on a different machine, its one that she has always fancied getting hands on with, a Menzi Muck A91.
We will let Aimee explain in her own words what's going on, "Making good use of sometime between my more regular commitments this interesting little job came across "my desk" from a client who happened to own a Menzi Muck A91 and wanted some landscape work doing as well as some roads and drainage and as I've been a huge fan of these types of machine for many year's I could hardly turn it down".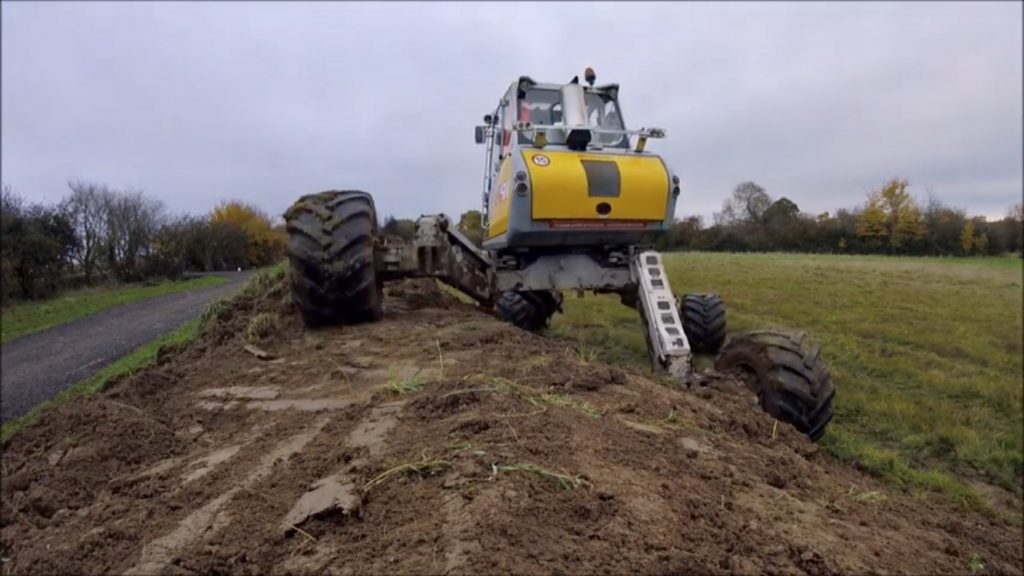 "I have admittedly only recently got the chance to start getting my head around these types of machine so bare that in mind, it's still early days for me on this particular type of excavator and I hope to get more jobs like this one where I can begin to push my skill set to new places".
"These machines are built to work on absurdly steep slopes in the swiss alps and that is where they excel, where other machines stop, they start work, I would also like to point out that this age of Menzi does not have any proportional option on its auxiliary line that feeds the Engcon unit so if it looks a little more jerky than usual it's because its either "on or off" when it comes to tilt and rotate functions, that causes you to change your driving style considerably, either you don't use it (never an option for me personally) or you stab away with a million small jerky movements all day and incur the best thumb cramp you will ever experience or you learn your movements/strokes and attempt to make more controlled guesses at how each movement changes the bucket angle when coupled with another function like bucket curl for example which once you get the hang of that it cuts down the required movements your thumbs have to make stabbing away at them joysticks all day long".
"Of course I would naturally prefer a more modern setup where proportional control makes it all much easier but it's always fun to try to get the most out whatever setup you may be running regardless of its restrictions".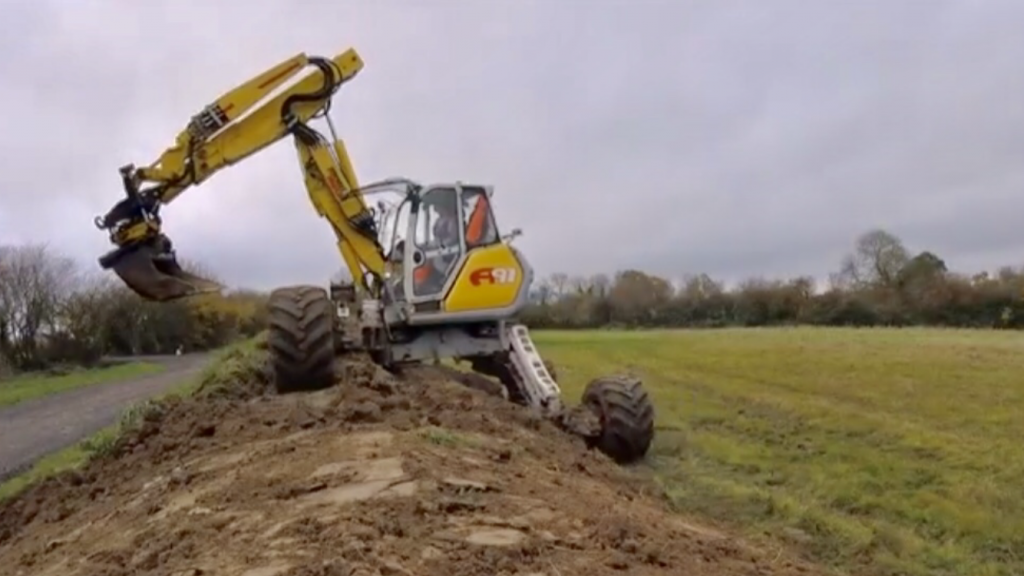 "The job being done here is to landscape some earth mounds or "bunds" as they were deemed too high and straight, so they were being softened in height with some curves being added as well as some dips and rises to help it look a little less imposing and more pleasing to the eye in general. To save doing 2 passes down the length of the bund I made use of the Menzi's multi positional legs and set myself up with 2 wheels running along the top of the bund and the other 2 on the floor, this meant that with a little jiggery pokery of my front right leg I could reach both sides of the bund and thus do it all in one pass saving getting mud on any roads and churning the grass up in the farmers field, as with any job there is always a multitude of different ways it can be done with all sorts of kit, but this is what I had available to me at the time and made the most sense to me. To see the finished article you can skip to the end of the video".
Text, screenshots and video courtesy of Aimee Pooley (Duck Girl).