For the past two and a half years Wiltshire based Tonic Construction's Managing Director Tony Iles has been at the forefront of the campaign to bring full safety cabs into the mainstream on construction sites across the UK.
Having suffered a fatality on one of his company's sites involving a forward tipping dumper, Tony Iles was determined to do something to make these machines safer and to bring this venerable piece of construction plant into the 21st century from a usability and safety perspective. The company worked in conjunction with other large contractors, plant hire companies, site dumper manufacturers, the CPA & CEA and the HSE (Health & Safety Executive) who all attended a series of meetings to discuss the way forward.
There can be no denying that Mr Ilse's has personally had a massive impact with his campaign to drastically cut down the numbers of open cabbed dumpers in use on sites going forward, talking about the campaign Tony said, "Its been a challenge I must say! When you run your own business it's a piece of cake really, for instance, if I want to change something within my organization, I can do it at the click of a finger and it all happens, but with the wider industry it's not so easy".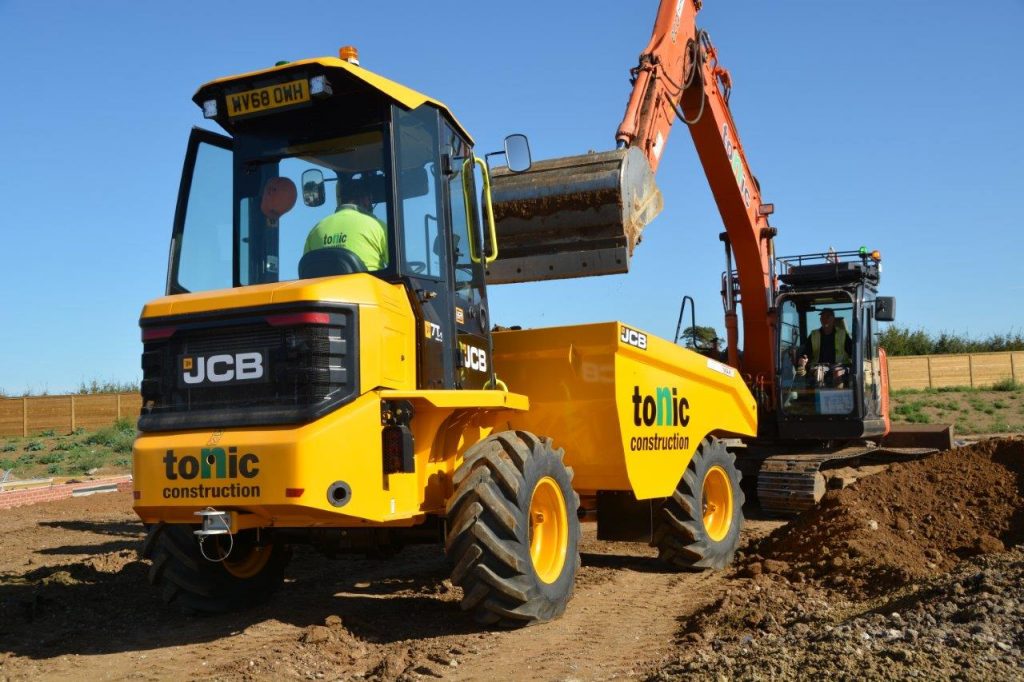 Tony continued, "I must admit, I got very frustrated with people, many of whom just seemed to want to swim against the tide, rather than go with the flow, some of the negativity we faced really got to me at times, but I'm a stubborn sort and I stuck to my guns to see it through, fortunately we have come across some excellent like minded individuals who have really helped to push this along to where we are today".
"I think its great that the industry is now moving forward collectively, as for too many years the forward tipping dumper has been the forgotten piece of kit on site, even though as a country we use so many of them on a daily basis, but now, it's finally starting to look like a proper piece of equipment at last".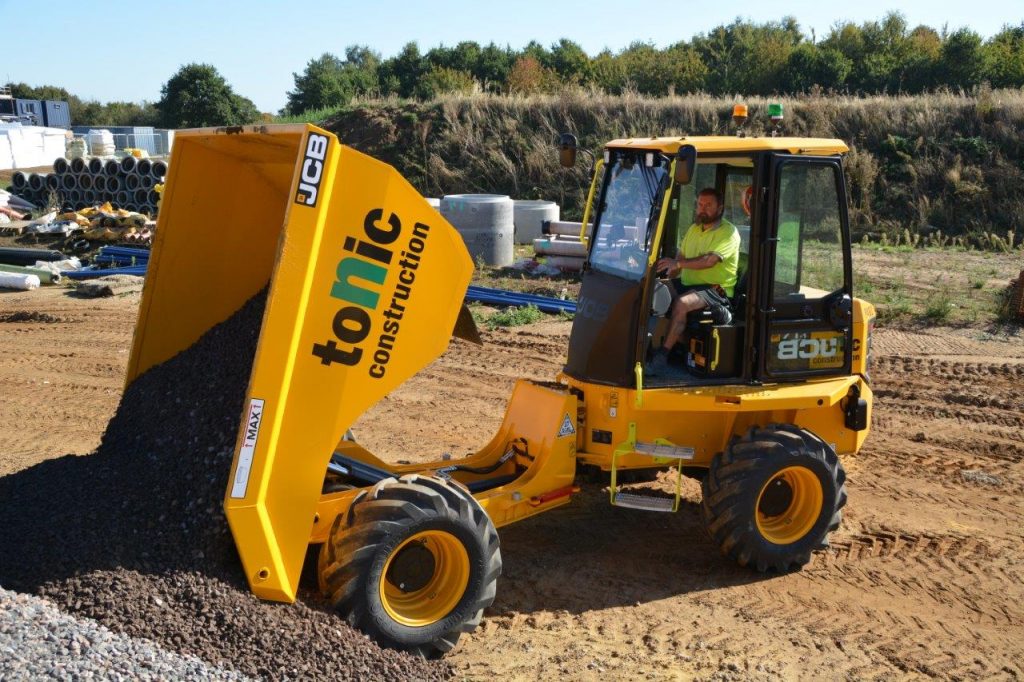 When we last featured Tonic in this magazine they were just taking delivery of their first Wacker Neuson BMT (Bulk Material Transporter) models. Since then 23 of these 9 tonne models have joined the fleet as Tony put his money where his mouth is, replacing all his open non-cabbed 9 tonne dumpers with them in the process.
Tony said, "When I first set this campaign going Wacker Neuson were really the only company that did a cabbed dumper variant in Europe, they were also very proactive working with me to develop the concept further, ensuring that the BMT was FOPS, ROPS and OPS compliant and something that we could actually move forward with".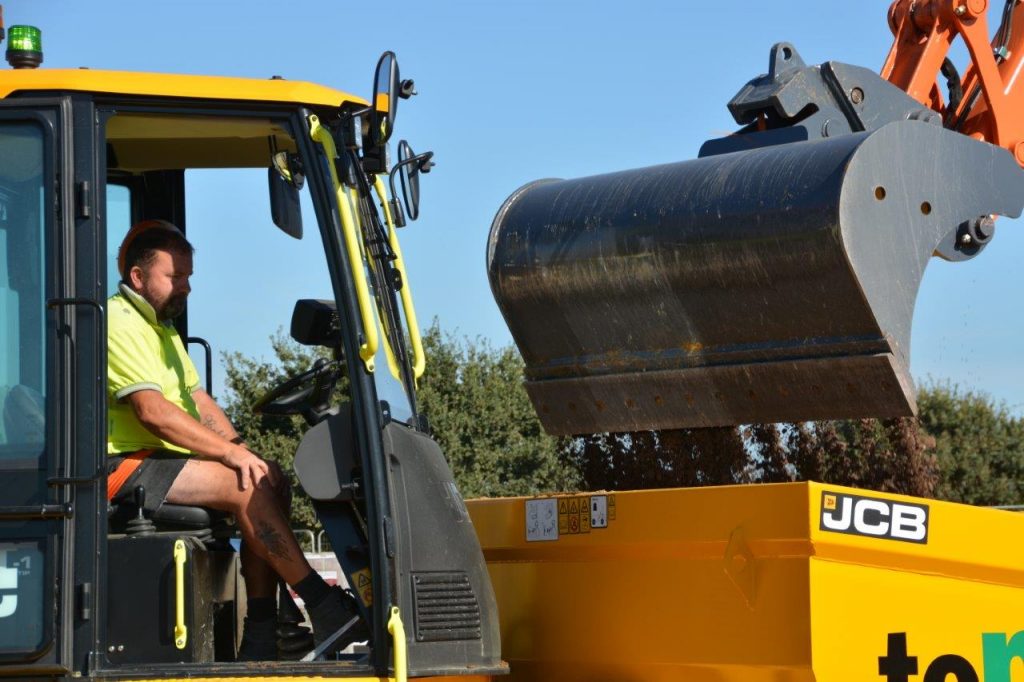 "I'm proud to say that now, all other manufacturers have bought into the cabbed dumper concept and JCB have done a great job with the new innovative 7-1 Hi-Viz dumper, they have come at it two pronged, with a cab that is already ROPS, (Rollover Protective Structure) FOPS, (Falling Object Protective Structure) and OPS (Operator Protective Structure) ready, but they have also vastly improved the visibility to the front with the new styling of the skip. We have just added two to the fleet and there will be more to follow for sure".
The JCB  7-1 Hi-Viz is radically different to anything else that has been produced before in the forward tipping dumper sector and its probably fair to say that its looks have received a mixed reaction from people in the industry.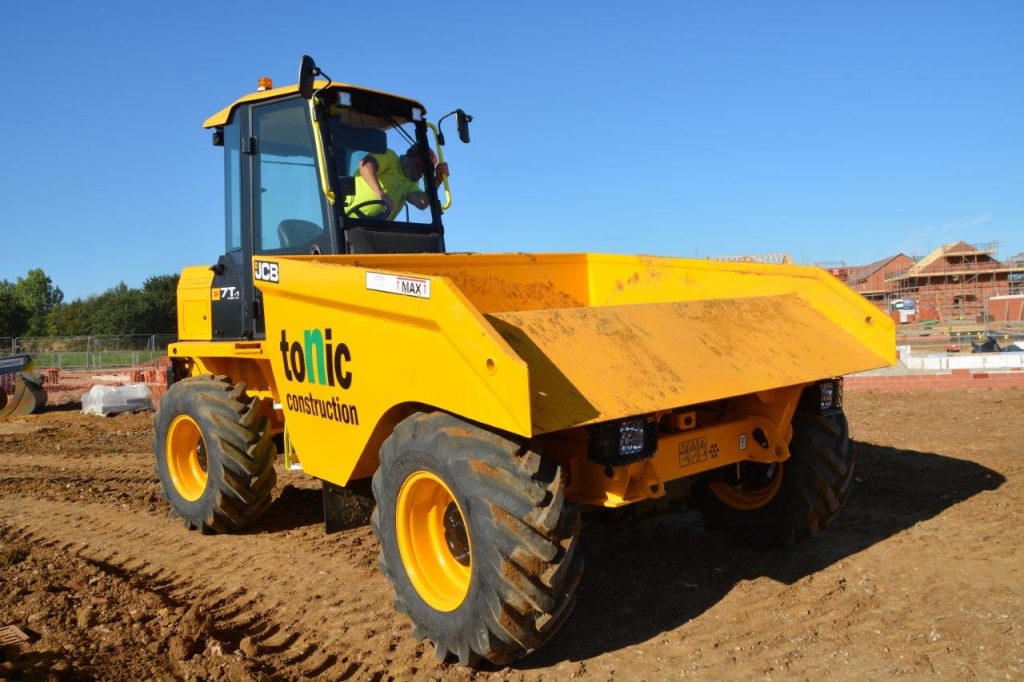 Talking about the new machines acceptance on his sites Tony said, "We have only had them for a short while, but my guys on site reckon it's a great piece of kit to drive, with the bonus of the extra visibility over the skip receiving special praise".
According to JCB when compared to a conventional fully laden 6-tonne dumper the 7T-1 Hi-Viz model offers up to 77% improvement in visibility, thanks to its low-profile skip design.
One of the operators we spoke to on site had nothing but praise for the Hi-Viz saying, "It's a cracking dumper, I was a bit sceptical when I first saw it, but it's generally a great machine, comfortable inside the cab, with some of the best all round visibility I've ever seen on a dumper, it's a real pleasure to drive".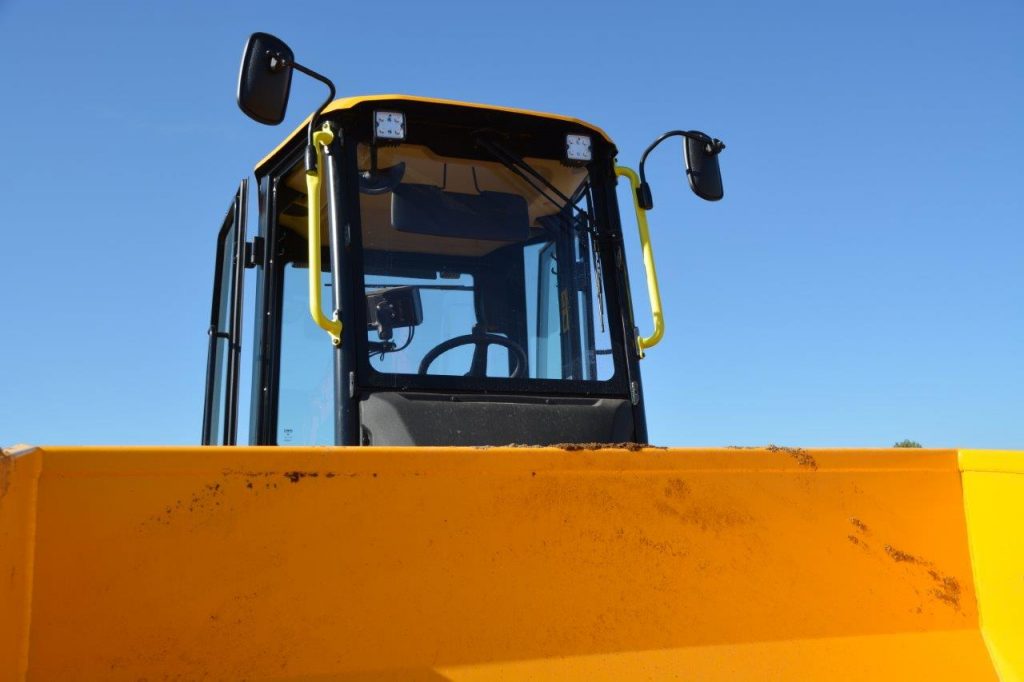 Tony said, "Some of the lads have got a sense of not feeling 100% sure when sat in the cab, but this is due to the fact that our BMT dumpers have the outer cage OPS set up, but with the JCB Hi-Viz you don't get that because the actual  JCB SiTESAFE cab structure itself is already OPS certified and it features a "battle glass" front screen which slopes back away from the skip".
"I think its just a case of getting used to it being different than our Wacker Neuson models that the lads are all used to now. In the old days of course, the operator stayed on the dumper while it was loaded as a standard practice and historically there's only ever been one recorded death from a bucket strike with a driver sat on the dumper. In 2016 there were 200 claims for trips, slips and falls from getting on and off, site dumpers, so staying on board is without doubt the safest place to be statistically".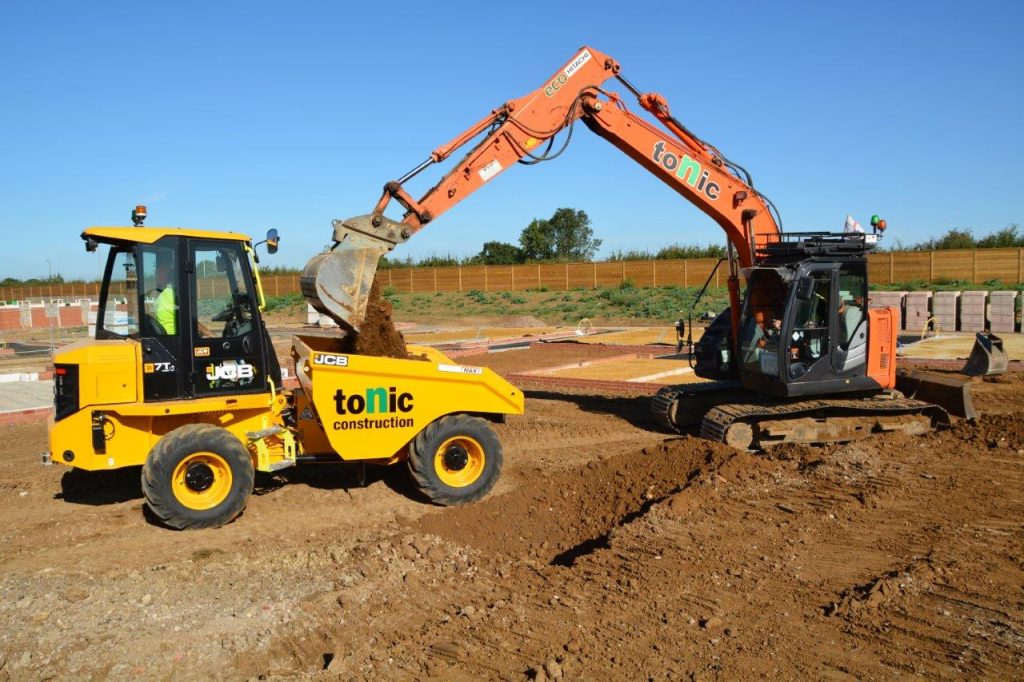 According to Tonic Constructions own internal time evaluation studies the whole operator staying on the dumper scenario is working well, not only in terms of safety, but also in terms of productivity and the benefits and time savings of this way of working are proving to be massive.
The 7000kg payload JCB 7.1 Hi-Viz is powered by the well proven in-house Stage 3B/T4 Final emissions compliant JCB EcoMax turbocharged 4-cylinder diesel engine, which offers a power output rating of 55kw (74hp) driving a Powershuttle transmission featuring 4 forward and 4 reverse gears, with a crawler speed in 1st gear of 2.8mph and a top speed in 4th gear of 15.3mph.
The machine features decent foot steps and handrails for that all important 3 points of contact on you're way up into the cab and these are highly visible in the green fluorescent paintwork. Road legal lighting is fitted and Scandinavian style LED work lights are fitted on the cab both to the front and rear. Rear and sideview cameras have been fitted to Tonic's specification on this machine which can be viewed via the in-cab monitor. Another bonus is the fitment of a radio in the roof of the cab. These two machines were fitted with a heater/cold air blower, but the air conditioning units are going to be retro fitted buy the dealer Holt JCB in due course.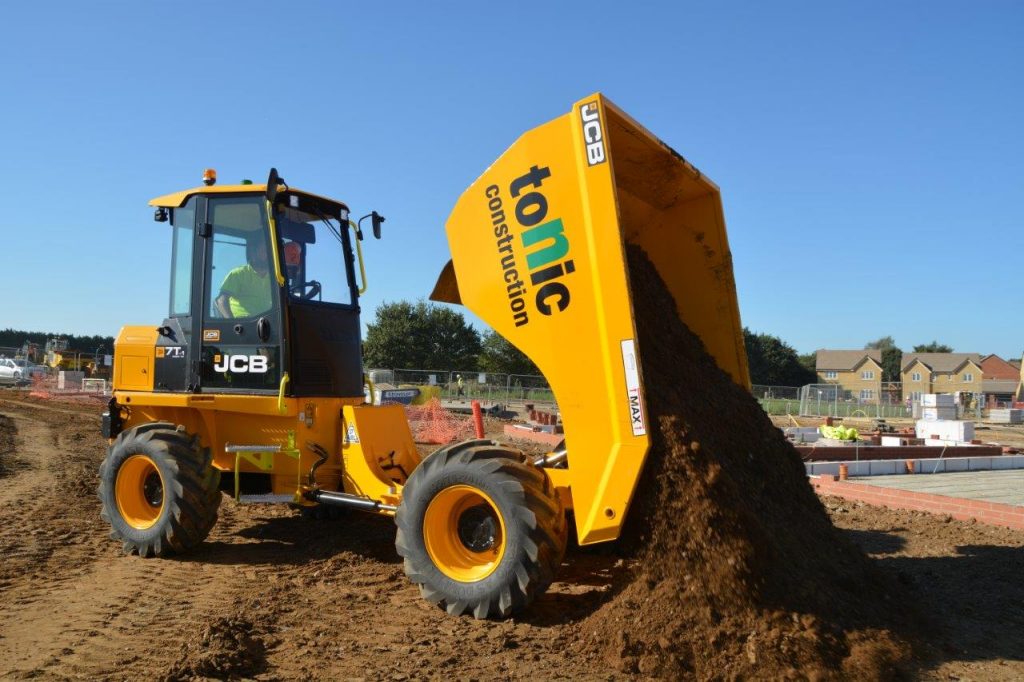 There has been a lot of chat on social media and machinery forums about the perceived ground clearance on the Hi-Viz dumper, talking about that Tony said, "I honestly think it's a visual thing rather than any real issue, its just that it looks so different, I must say none of my lads have reported any problems with ground clearance. The lower profile skip is a fantastic idea for the visibility, the only bit of grief I have had from the guys is about the built in slope at the front, if they are tipping up the skip to shovel some material out of it, then they have to reach a lot further than on a conventional skip, I fully expect JCB to come up with a solution to that issue in due course and think that it will be designed out, but in the meantime we will look to use swivel skip models for such tasks going forward, its really all about using the right kit for specific jobs at the end of the day".
Having its 9-tonne cabbed dumper fleet renewal completed with its Wacker Neuson BMT models in place, Tonic Construction will be looking at the JCB swivel skip cabbed dumpers next, talking about the smaller models Tony said, "We are no focused on moving forward with our renewal of the smaller models, we will be sorting the 6 tonners out with JCB swivel skip models shortly".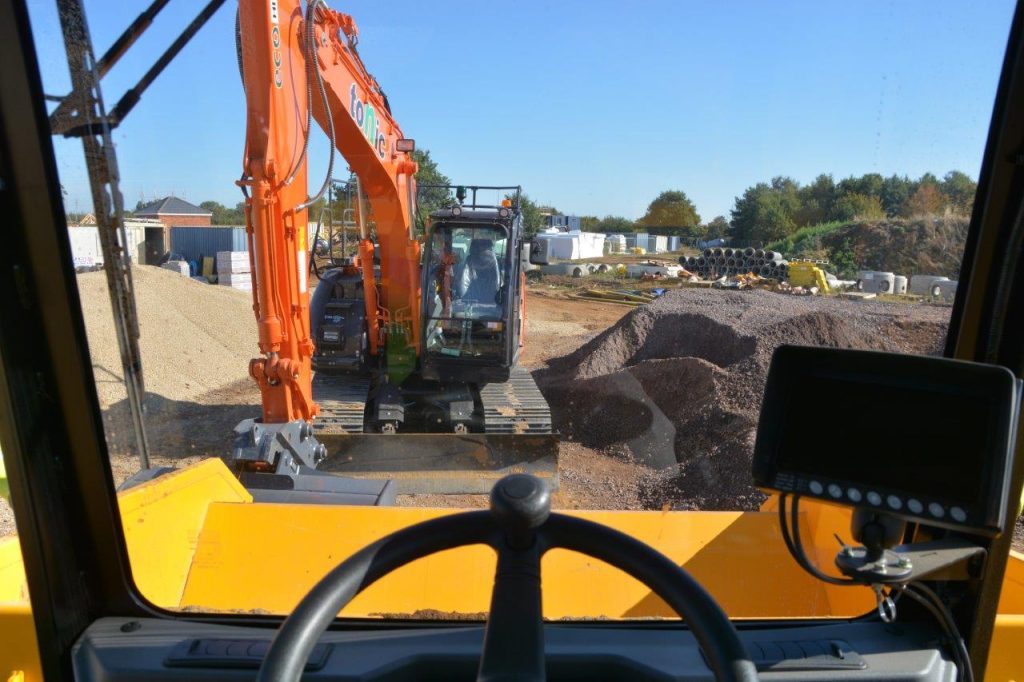 "We are desperate to do something with the 3 tonners, but they are causing problems for us, mainly due to the fact that I want to specify air-conditioning in them, because if not its like sitting in a greenhouse and I don't expect my men to be uncomfortable in the working environment. The problem is most engines fitted into 3 tonne dumpers are simply not powerful enough to drive an air-conditioning unit too, so that's something that the manufacturers need to start looking for a solution to".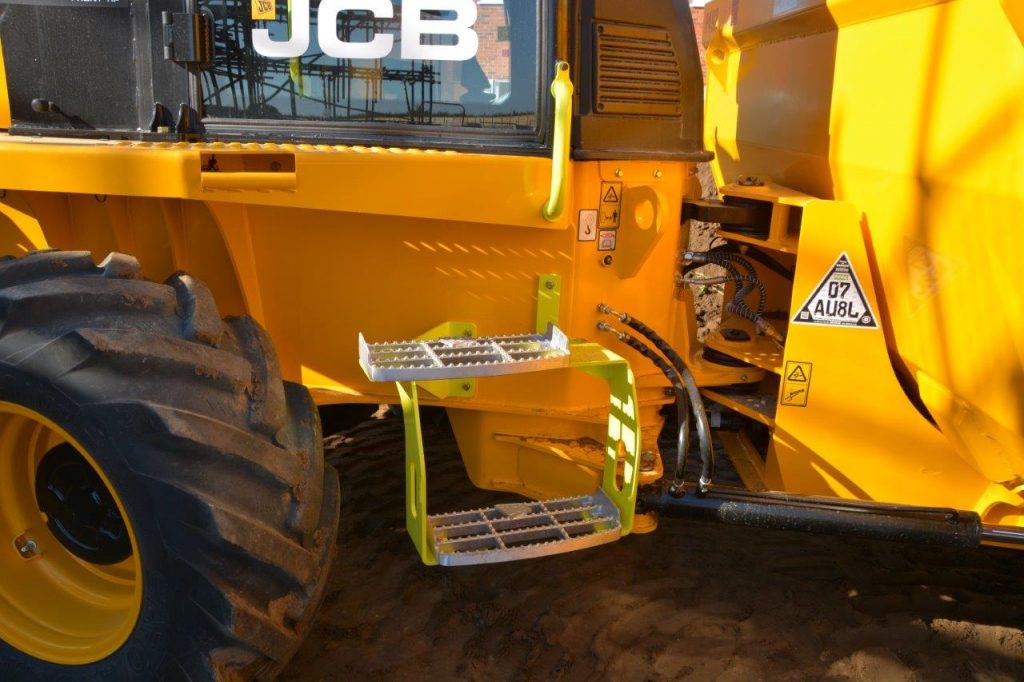 Tonic Construction are now looking at a number of other site dumper manufacturers to see what they can offer their business. "We don't want to be tied down to one manufacturer going forward, because I feel we might become stigmatised for sticking with one brand, which we don't want, what I am pushing for is for full operator protected cabs to be fitted across the board and that will be my lasting legacy from this campaign" summarizes Tony.
Tony Ilse's vigour and tenacity to bring this safety cabbed dumper concept to fruition, must be congratulated and in years to come I am sure he will be fondly remembered as the man who made it all possible and in doing so saved lives as a result.