Our friend Olli Paivio recently visited an early adopter of JCB's Hydradig wheeled excavator for the plant, transport and machinery magazine Koneporssi and he has kindly shared the video with us here on the Digger Man Blog.
Demand for JCB Hydradig continues un-abated, especially overseas where the compact wheeled excavator concept has long been a favourite choice of machine, performing a wide variety of tasks on the job site. One man who saw the potential in the Hydradig in Finland is Mikko Jauho, who purchased one for his company SSW-Infra Oy over a year ago.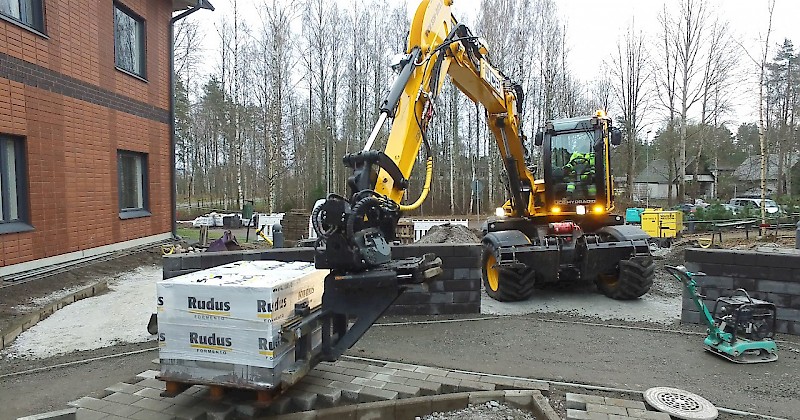 Talking about his experience with the Hydradig Mikko said, "I had previously operated other makes of rubber tyred machines but many were not suitable for the jobs we were doing. During the course of my work I have to carry a lot of block pavers, something that the Hydradig handles very well".
"I looked at a variety of different options before choosing the JCB. As I saw it the Hydradig was without doubt the safest in both excavating and carrying the loads. The machine is a lot lower than its competitors, and with the engine and fluid tanks located within the undercarriage it offers excellent stability thanks to its low centre of gravity. It is very rare for me to lower the blade or jacklegs on this machine".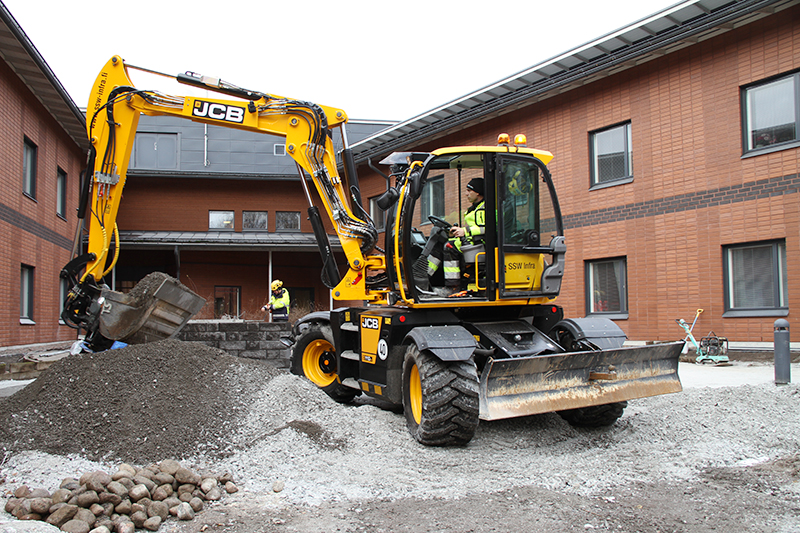 The Hydradig was supplied by JCB dealership Mateko Oy and was fitted with a NOX tiltrotator which features no external rams, Mikko said, "I chose the new generation of NOX tiltrotator for my own peace of mind. It complements the suitability of the base machine for even narrower work sites. It also tilts more than others, which is a great benefit for my landscaping work and surface shaping". The machine was also fitted with Alliance floatation tyres (550 / 45-22,5), these increasingly popular, wider than normal, tyres are a god send in soft ground conditions.
Check out the video of the machine in action below.
We would like to thank Olli Paivio and Koneporssi for sharing the photos, information and video included in this post.