In this the final part of the memoirs of retired plant man William (Bill) Peters he talks about his return to the UK and his eventual move away from the plant game, written in his own words and photo supplied from his own archives.
Back Home
After arriving back home from Saudi with just £20 in my pocket, I took a few days off before contacting my previous employers Whites, who were now operating as Broadhempston Plant Hire, they were good enough to give me a start running an O&K RH6 swing shovel an old but a perfectly serviceable machine.
The first job was to demolish the oldest brick building in Exeter quite close to the Cathedral and from memory four maybe five stories high, this was a bit high for me to start so a wrecking ball from Westpoint Plant was brought in operated by a workmate from ten years previous at breakwater quarry, he made a start so I had some rubble to climb on so I could reach the rest.  It was quite a large building and took a couple of weeks to complete with some interesting finds in it like a wood fire lintel made from a very large piece of ships timber hundreds of years old and a small roman coin albeit in poor condition.
One evening I was the only one left on site doing my maintenance when I heard a brick clink looking up a chap took a photo of me, as you can see I don't look happy as he should not have been there, it turned out he was from the local paper.  Looking at the photo now I see there were no barriers between the site and the pavement and the rubble goes right to the edge, this was before "elf and safety" and the smartphone zombie virus took over the world and people looked out for themselves and had common sense, good old days.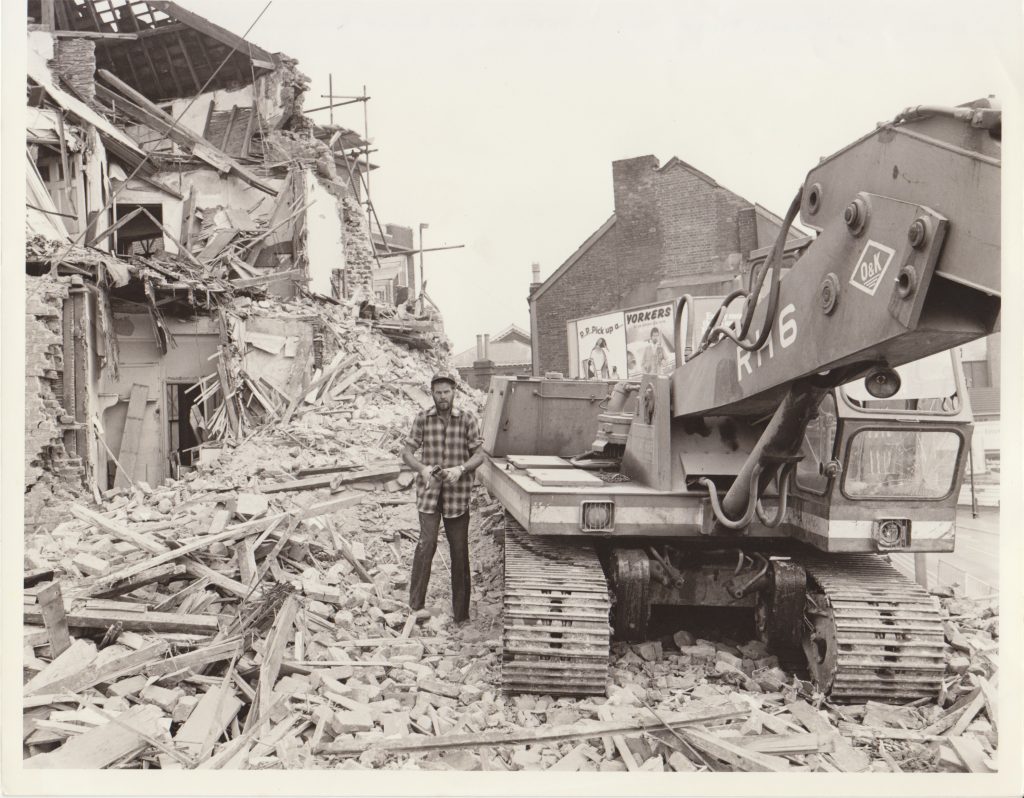 From there I went to the clay pits at Lee Moor assisting with moving the water monitors and kit that was used for washing out the clay and the associated pipework, having been there for several weeks it was the end of October and getting cold on the moor, stopping for lunch I pushed the button to stop the engine but let it go to quickly and the engine fired up, the snag was it was running backwards with smoke coming out of the air intake and drawing in air through the exhaust, this meant it wouldn't stop so the only thing I could do was to jam rags into the exhaust and starve it of air, this worked but it took a little while.
Going home one day I passed the Calor Gas depot and called in to see a chap I owed a pound to, I had barely got in the gate when they offered me a job for the winter at a good rate and plenty of overtime so I said I would contact my employer as this might work in both our favours because it is hard to get enough work in winter to keep all the machines working, Les and Horace agreed so I took up the Calor offer. On the Friday I was again doing my maintenance ready for the next operator when Les pulled in with the low loader with a brand-new O&K RH6 on board so it just proves I kept the old gear running.
I was supposed to stay at Calor Gas until the end of March but just as I was thinking it was time to return to earthmoving they offered me a permanent job which gave me a real dilemma, should I stay where the pay and pension was good or should I return to the machines that I missed so much. I decided to stay to give my wife a better future and spend more time at home.  It was a hard decision to make leaving the industry I loved and the camaraderie also giving up the idea of going to Australia and having a go in the mining industry there.
Now after all these years I still miss it every day and wonder if I really made the right decision, earthmoving definitely gets in your blood and there's no antidote. I calculate in the eleven years I was operating I ran sixty-four different machines from fourteen different manufactures so not a bad effort for a boy. So, this is my last blog but I'm sure there must be other chaps out there with more experience and better tales to tell than me so let's hear them.
The co-operator
I'm sad that this is the end of Bill's tales of his time in the plant game, but its been an absolute pleasure to receive his emails and to have the honour of sharing his stories with the masses here on the Digger Man Blog. As Bill mentioned in his summary, it would be great to hear from others in the future and to do a similar feature, so if you have tales to tell with photos to support, please do get in touch with me.
All that remains for me now is to thank Bill for all his efforts with the past 27 blog posts he sent to me, I wish you all the very best in the coming years.
Best Regards Nick.