Our old mate Ron Horner from Australia has been out again on one of his road trips and discovered a rare old Cat 633C elevating motor scraper, which he takes a look at in his own unique style.
Motor scrapers were big business back in the 1960's and 70's. Although not liked by everyone, the single-engined elevating scrapers were doing well on the sales front, most notably the Wabco 333F and the International E295. Caterpillar decided they wanted to produce something to challenge these two models and in 1966 the company launched the 633 which featured a 32 cubic yard bowl and was based on a beefed up 631B tractor.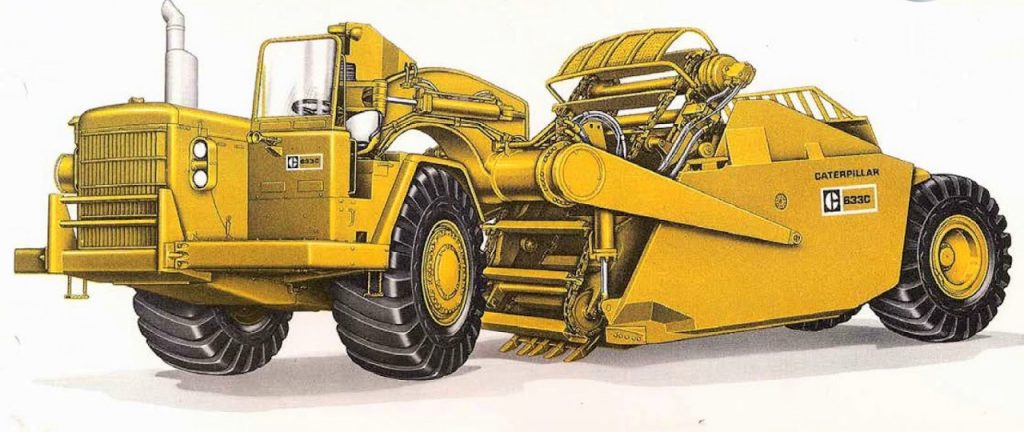 Photo: Courtesy of Richard Campbell. 
In 1969 the 631 received a C Series upgrade and following suit, the 633C was launched soon after. Engine horsepower was increased from 400hp to 415hp and the machine was fitted with an all new 8-speed semi-automatic powershift transmission. The model was upgraded once more in 1975 when it received D Series status. In the wider scheme of things not that many of this model were built so that's what makes this an interesting and rare machine.
Let's join Ron for a more in-depth look at this Cat Classic.
Acknowledgements go to Ron Horner of Trade Earthmovers and Richard Campbell of Contractor Mag NZ thanks guys.