With an equestrian background behind him, Wil Jenner had always had an interest in horse ménage and arena construction. He had grown up on the family farm in Ammanford, Carmarthenshire and having friends both in the farming and construction sectors, he had always been a keen operator of various machines during his formative years.
The intrepid entrepreneur set up his arena construction business in 2012, when his families existing riding school needed to expand to cope with demand. New facilities had to be constructed and most importantly the actual arenas needed to be up to the task of dealing with the typical Welsh weather and to be able to cope with the amount of traffic that is typically encountered at a top competition venue.
In 2015 Wil decided to give his business a trading name and Beacon Arena's came to fruition. By this time, he had gained a lot of knowledge from researching the vital points of arena construction and indeed by his own admission, had learnt from mistakes he had made previously.
Talking about the early days of his business Wil said, "Diving in head first in to what seems like an older guys game of running a construction business, I set out with the reputation of what I had constructed at home. It went from my first arena refurbishment for a regular client at the centre who was very impressed with the results thinking it wouldn't be as good as it turned out and evolved into being asked to construct new arenas for many more clients and friends of clients after that".
Wil continued, "Coming head to head with long established construction businesses that also catered for building arenas was a difficult challenge to overcome, as I was seen as inexperienced to prospective clients who hadn't any knowledge of what I had already achieved. This prompted me into looking for my own specialist machinery to stand me apart from everyone else, it had to serve many purposes as I had a tight budget. This led me to acquire a JCB 1CXT which was more versatile than a typical compact excavator and certainly fitted the bill as a specialist tool".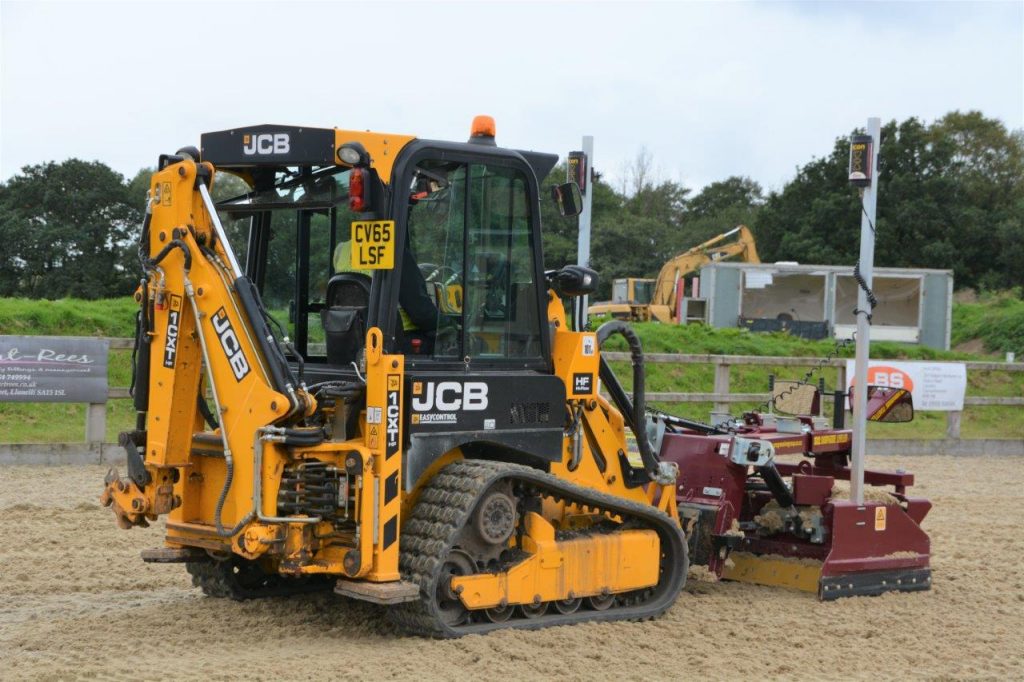 Naturally one of the major challenges of building arenas is getting the surface accurately graded level and after soldiering on in the old school method of a laser and staff, checking the depth as he went, Wil figured that there just had to be a smarter and faster way of doing the job.
Wil said, "My idea was to fit a blade on the machine, mount a laser receiver and grade manually with it, but after I discovered that JCB didn't actually have a six-way blade to fit the 1CXT it was really a case of back to the drawing board for me. I wondered if there were more compact machine control units out there.  I had found that you can get machine specific laser graders that utilised the companies own on board computer system but which were not compatible with any other brands".
Wil embarked on a bit of a mission and like so many these days, took to the internet to do some in depth research. He quickly discovered that compact tracked loaders with laser grader attachments were extremely popular, especially in the USA and Australia fitted to a wide variety of manufacturers machines. Wil tried calling and emailing a number of company's but was just greeted by silence, which led him to think about fabricating his own. But even this proved to be more challenging than he thought.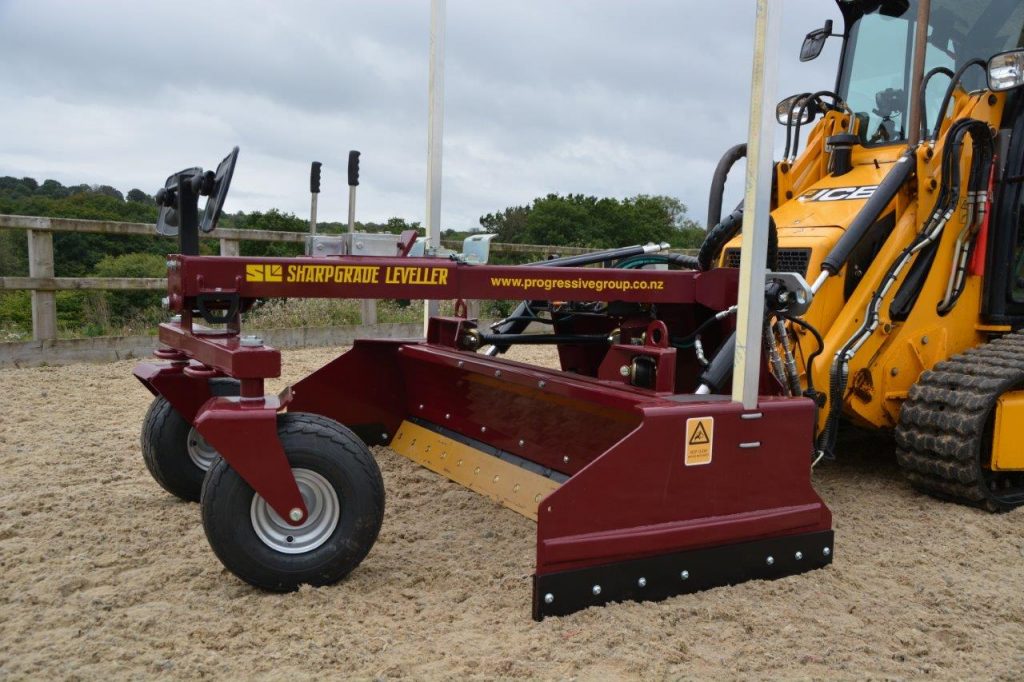 In the first instance Wil set out trying to source the necessary machine control hardware in the UK that would be suitable for compact equipment. He successfully found a couple of companies that would supply the parts, but it very quickly got complicated making sure that all the configurations and dimensions of the grader were correct in order for it to all work together. In short, it all seemed like a complete nightmare, but Wil learnt a lot along the way into what set ups worked and which ones didn't.
Like a dog gnawing on a bone Will turned to You Tube for more inspiration, it was here that he came across a video the New Zealand built SharpGrade grader which appeared to be a well thought out piece of kit. A number of its features appealed immediately, it was very sturdy and robust in design, the fold up wheels at the front, would allow you to work closer into corners and up against walls and it featured a universal fitment which looked like the answer to all Wil's prayers.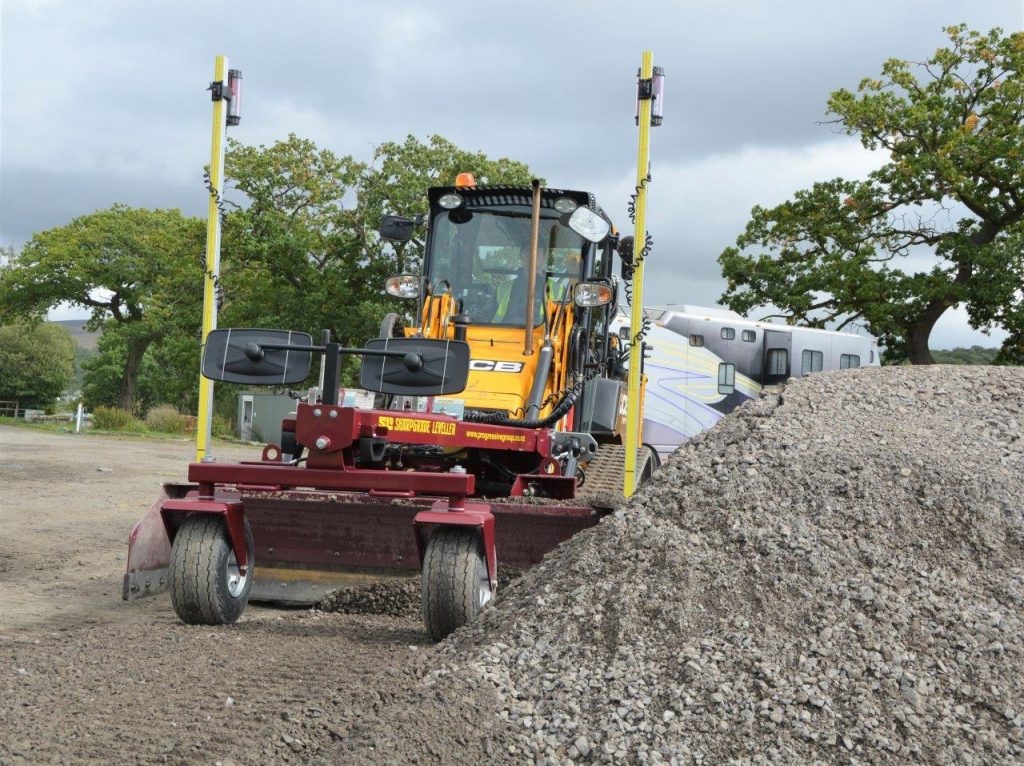 Keen to strike while the iron was hot, Wil emailed the company, the Progressive Group/SharpGrade in New Zealand before going to sleep that evening and the very next morning he received a phone call from the man behind the company himself, Rodney Sharpe who explained all about the SharpGrade Leveller concept and its compatibility on different machines including Wil's 1CXT, this chat from the other side of the world was followed up with an in-depth email containing information on the grader, its controls and what was needed to run it.
Following several more exchanges of email and telephone conversations with Rodney, Wil plucked up the courage to put in an order for what would be the first of its kind in the UK. Looking back Wil laughed at how he transferred a large sum of money into Rodney's business bank account in New Zealand and then had to wait and hope it arrived.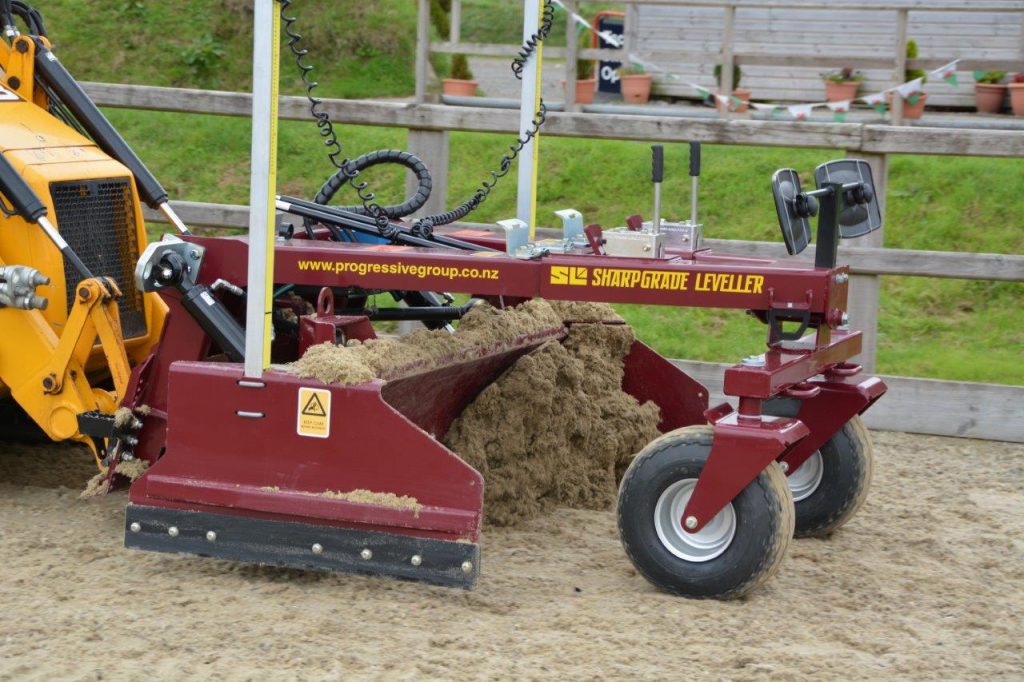 Approximately 13 weeks later it arrived in the UK with Peter Woolnough at Reach it-Move it-Crush it, who are the newly appointed dealers for the SharpGrade products. We arrived on the day it was installed and incredibly Rodney accompanied by his wife had travelled up from New Zealand to perform the install personally and to demonstrate how to operate it.
Rodney was keen to show us around the grader and to point out some of the unique features of the product. Rodney said, "The difference between a SharpGrade and all the others is that it has no pivot bearing in it. All the elevation movements like, rise, lower and the tilt is done with four linkages, which are sphericals, grease filled and lifetime lubricated, these are shielded so dirt cannot get in and due to our patented Quadrod design its 100% rigid allowing no unintended movement, it's the most rigid and accurate model in its class".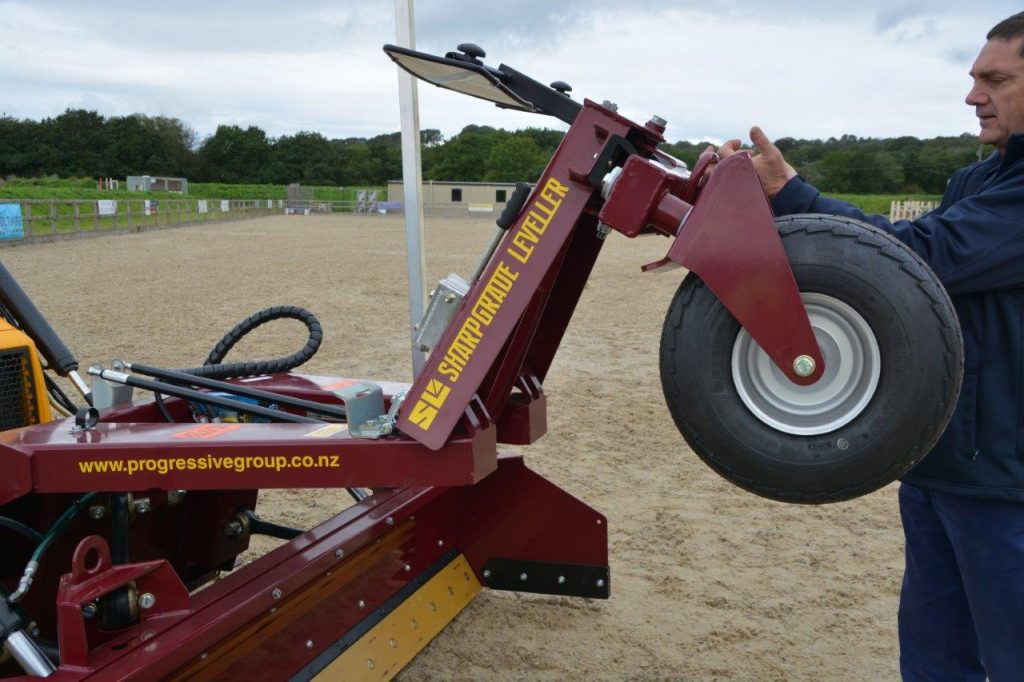 "For grader control we fit our own graduated laser poles for quick and easy height adjustment, one on each side, not a centre pole like some others do, we find they are not as accurate. Another difference with our grader is an adjustable hitch plate, which means we can sit the unit level with the boom fully on the ground. The unit sits at the optimum height, which helps in keeping the chassis rigid making it easier to trim with. The low push point keeps the machine on the ground allowing more power to be transferred to the blade".
"Another unique feature is our retracting front wheel design, with the wheels folded back you can grade up to walls and fences and push through piles like a dozer if needed. A curved mould board blade design is used, which prevents segregation of materials by constantly rolling it forward, so fines mix with larger stones for consistency of the graded material. Twin oversized front mirrors provide the operator with a good view of what is happening at the vital corner points in front of the blade".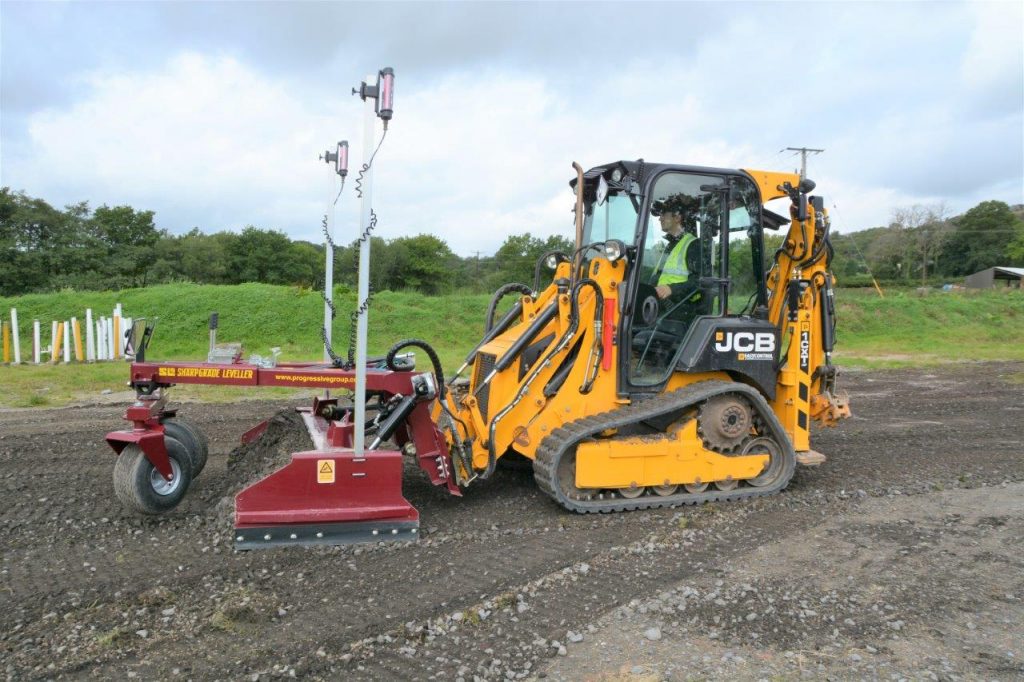 Asked about the longevity of the SharpGrade Rodney explained that they have units in the field in the USA and Australia with in excess of 3,000 working hours on them and its reported that they are still as rigid as the day they left the factory in Hamiliton.
Five models are manufactured consisting of 3 single wheel models the Junior Series with a blade width of 1.5m which weighs in at 320kgs, suitable for carrier machines from 20hp to 40hp, the Compact Series, blade width of 1.8m weighing in at 490kgs for machines from 30hp to 60hp, the Medium Series, blade width 2.0m weighing in at 560kgs for machines from 60hp to 75hp and 2 Heavy Duty Series models with 2.2m and 2.5m blade widths tipping the scales at 840kgs suitable for machines from 75hp to 120hp. Optional clip on scarifiers are also available as are hydraulically powered rakes for breaking up hard material prior to grading.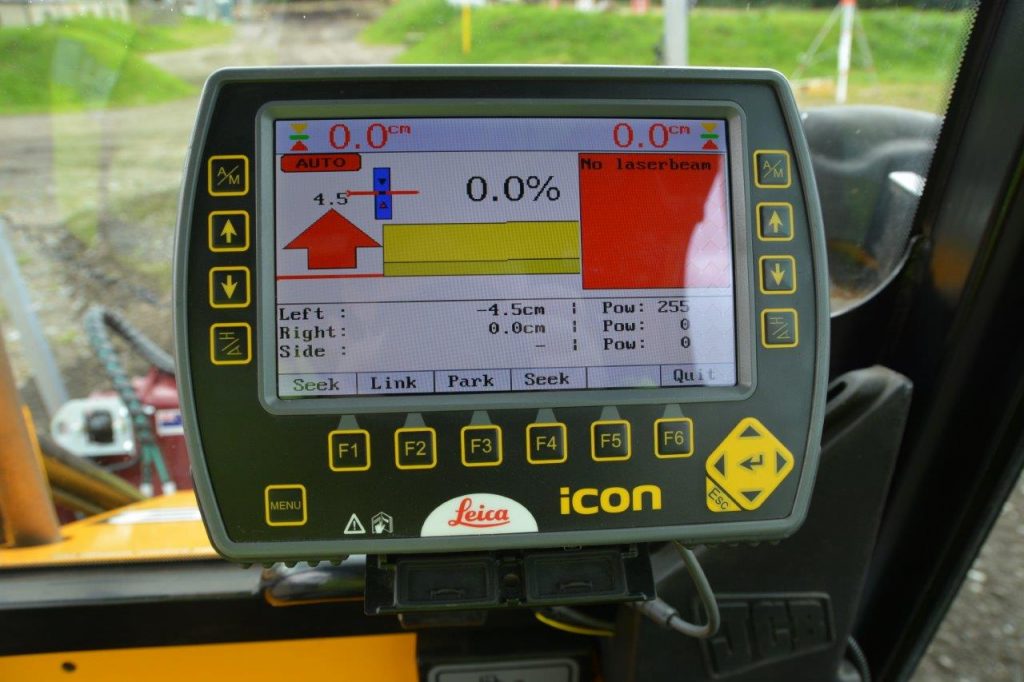 Wil's SharpGrade is fitted with 2D Leica Machine Control system which is very intuitive and well laid out. Wil said, "From what I have graded so far I have been so impressed with the results which on sand which are within 3mm".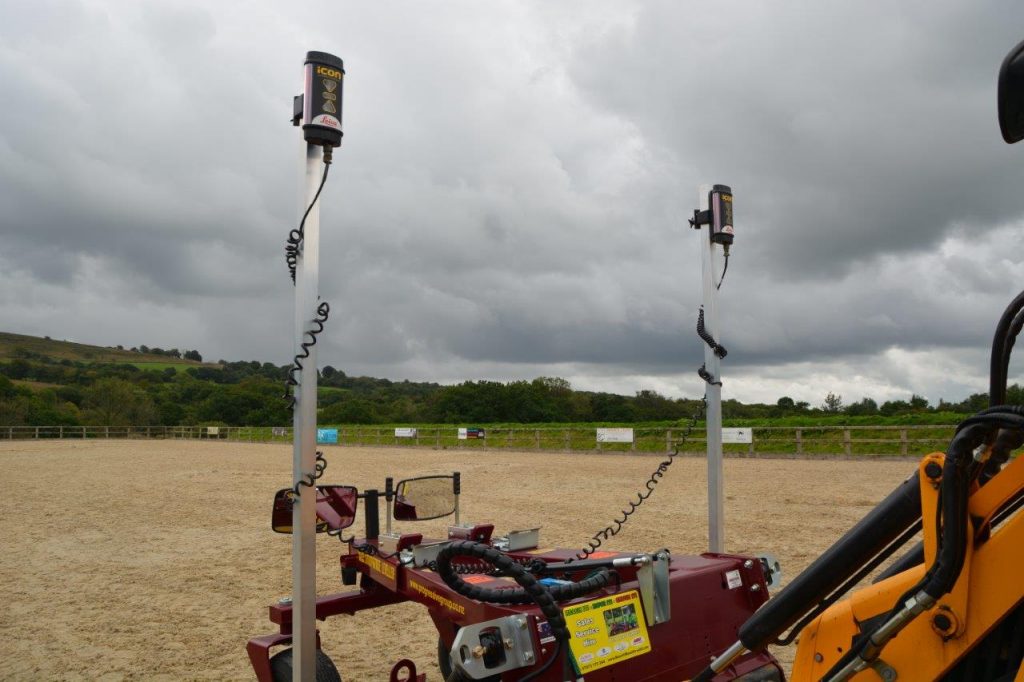 Wil continued, "The support from Leica has been second to none and is making it a very easy decision to move over and use their grade lasers instead of the brand I'm currently using. Hopefully the next acquirement for the business will be to upgrade Leica's 3D set up and total station for the grader and for wider use into landscaping from CAD/BIM. I also intend to add another SharpGrade unit to my fleet, utilising the 2D system I already have".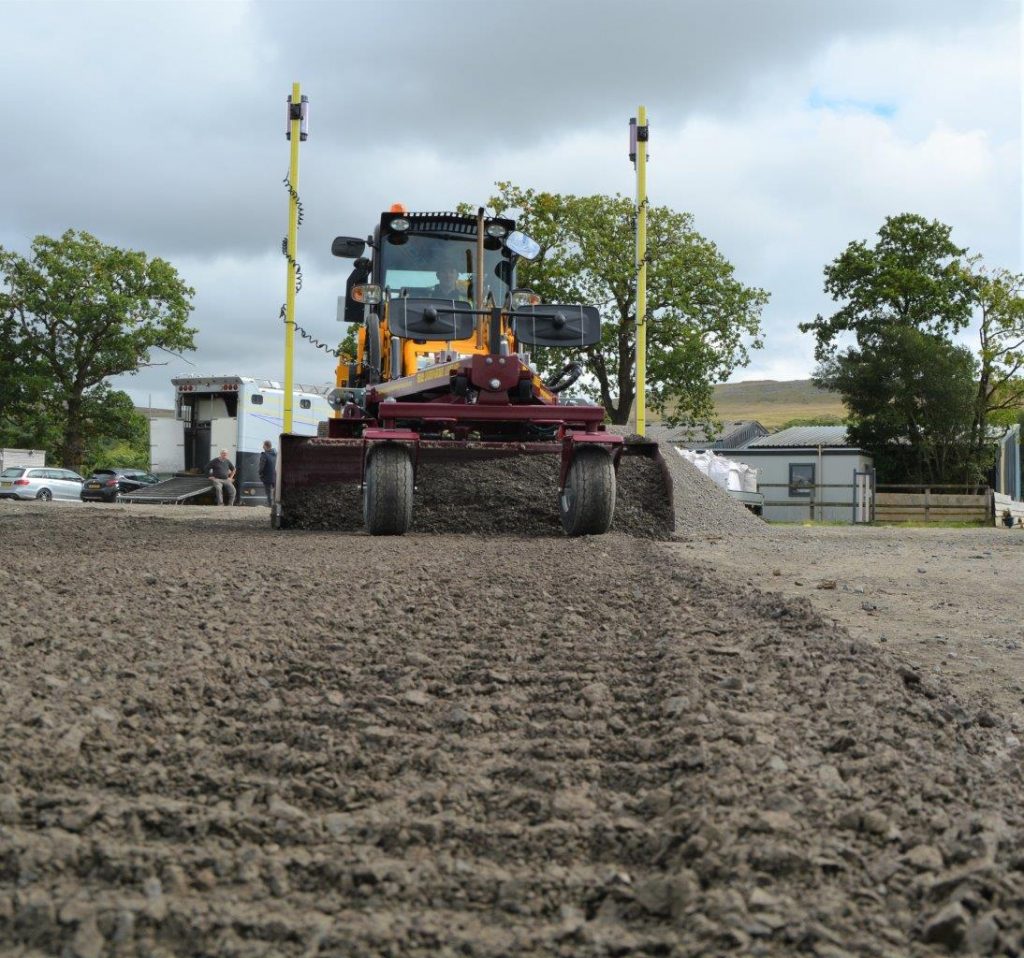 "As for SharpGrade I can't praise Rodney enough, he has been so helpful throughout the whole process and to come all the way to a sleepy village in Wales to do the install personally, well that brings customer care to another world!"
Pictured Left-to-Right: Angela & Rodney Sharp (Progessive Group) Wil Jenner (Beacon Arenas) and Peter Woolnough Reach it, Crush it UK Dealers.
"As for the JCB 1CXT with its full set of buckets, bucket brush, and post hole auger, its proven to be one of the only machines out there that is capable of doing everything I require of it, the addition of the SharpGrade with Leica system has really taken it to another level" concludes Wil.